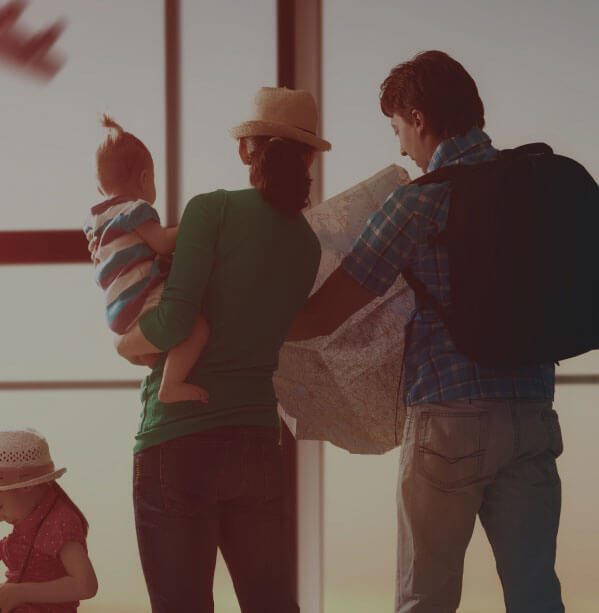 SKY Family
Traveling with children is now a piece of cake.
Find out why, here.
(0-2 years old)
Traveling with your baby
If you are traveling with your baby (0-2 years old), the infant can travel seated on your lap during the whole flight. You will be given a special child safety belt to use, which is attached to your seat belt. Remember that when traveling with an infant or a child, you cannot travel in an exit row seat.

Important:
During pregnancy, you may not travel together with an infant (up to 2 years old).
Travel allowed for infants over 7days old.
Infants up to 07days old and with minimum age of 02days, are only accepted with medical certificate.
One adult passenger cannot travel together with an infant(up to 2 years old) and a child(up to 12 years old).
Special advice for parents
Please avoid traveling if your baby is ill.

Be sure to bring with you a bottle and food for any necessary or desired nutrition of the minor during the travel.

Remember to bring with you the items you need to change your baby (diapers, wipes, etc.).

Make sure your babies drink plenty of fluids during the flight.

Before leaving, please remember that throughout your travel you must have all the documents required for your child's transport.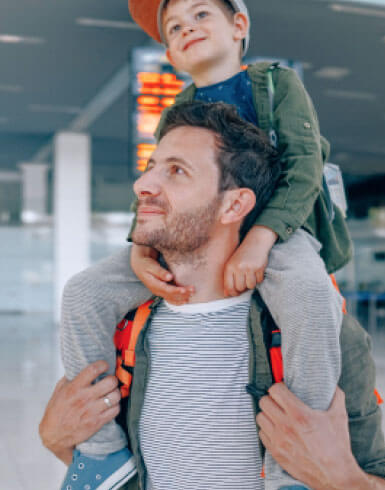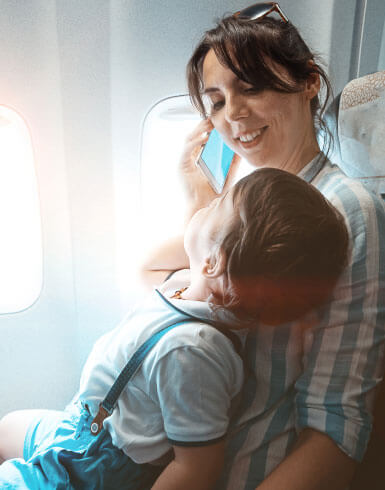 If you are carrying a stroller, please place a label mentioning your contact information on it (name, address, telephone number and e-mail).

If your child receives special medical care and treatment or suffers from an illness, please have the medical documents and his/ her medication with you.

Choose comfortable and warm clothing for your child (sweaters and socks).

During take-off and landing, give your child a candy or a chewing gum, or a pacifier, or a feeding bottle, or a lollipop or a biscuit for babies, to relieve the pressure on ears.
Children fares
Children up to 12 years old must be accompanied by an adult (at least 18 years old), who is not traveling together with an infant(up to 2 years old.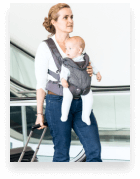 Babies
0-2 years old
90%
Discount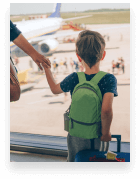 children
2-12 years old
33%

Discount*

* Available for specific fares.
Unaccompanied Child service
Unaccompanied children over 5 years old can travel by receiving escort service.
Service charge
Direct domestic flights
---
+10€
per route
Non direct domestic flights
---
+20€
per route
Direct international flights
---
+40€
per route
Non direct international flights
---
+50€
per route
Escort service is optional for all passengers over 12 years old
Read more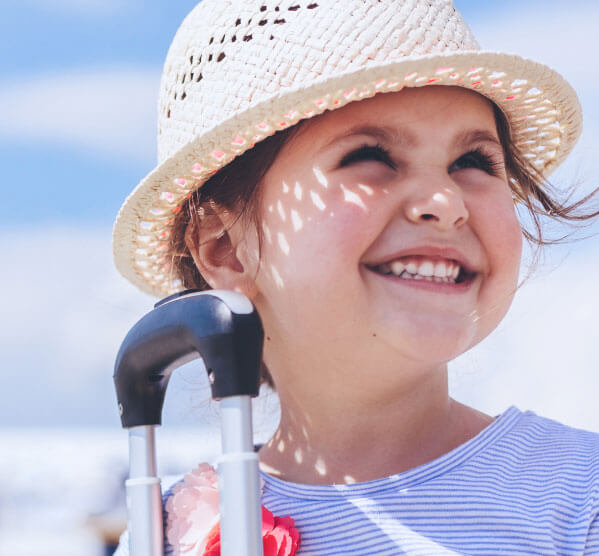 Your child's baggage
Infants (0-2 years old) must travel on their parents /guardians lap.
With regard to children's baggage (2 to 12 year-old children), the cabin baggage limits are the same as the cabin baggage limits for adult passengers.
Children between 0 to 12 years old are entitled to carry a folding stroller with a maximum size of 100 cm x 30 cm x 15 cm which is checked in and handed over to SKY express staff for storage in the hold of the aircraft. The stroller will be delivered to you with priority upon arrival, depending on airport availability.
Traveling during pregnancy
During the booking you must declare that you are pregnant by selecting the corresponding option in the section "Need special assistance?".
Until the 28th week of pregnancy, no medical certificates are required. However, we recommend that you consult your doctor before travelling.
When you enter the 29th week and up to the 35th (or the 31st if you are expecting twins), you must have a certificate from your doctor stating that it is safe for you to fly. The document must state that the pregnancy is proceeding without complications, the precise gestation week, as well as the estimated due date. You may download the document for your convenience here.
From and after the 36th week of pregnancy (or the 32nd if you are expecting twins), pregnant passengers are not allowed to travel by air.
Important note: during pregnancy, you may not travel together with an infant (up to 2 years old) or a pet in cabin (up to 8 kilos).

Useful advice
Choose comfortable clothing.

Wear compression socks to improve blood circulation.

If you are pregnant you are not allowed to choose an Extra Legroom seat (emergency exit seat).

Choose an aisle seat so you can get up easily.

Drink plenty of fluids, but avoid sparkling beverages.

Wear the seat belt below the belly, lower, over the pelvis.