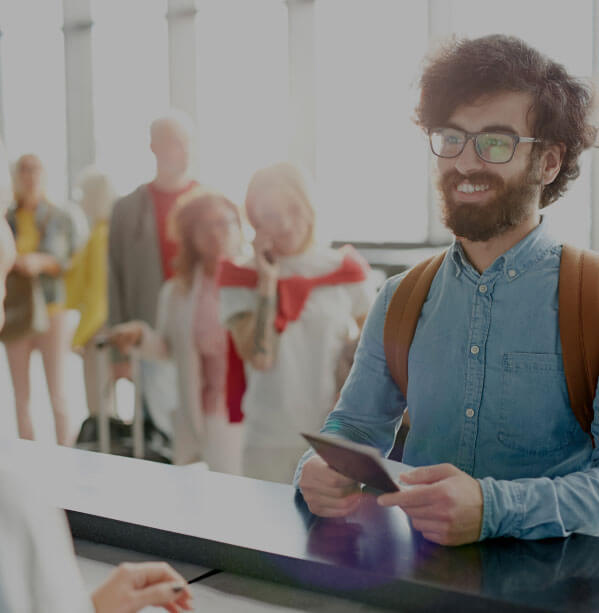 Check-in
Get your boarding pass either online or at the airport.
Learn how here.
Check-in
Check-in online
You can check-in online from the comfort of your sofa, bed or bathroom... literally from wherever you are. You won't need to wait in line to get your boarding pass. All you need is internet access... and a smartphone, tablet or computer.
Your device should be able to read PDF files.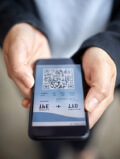 Online check-in available
48h
before departure
Check-in online
How do I check-in online?
1. Enter skyexpress.gr 48 hours before your due departure time. Online check-in will be available up to 3 hours prior to your departure.
2. Select 'Check-in'.
3. Enter your booking code and your surname.
4. Print your boarding pass or download it to your mobile device.
5. We recommend that you arrive at the airport at least 2 hours before your flight's departure time to ensure sufficient time for luggage drop-off. Please be aware that the check-in desk closes 40 minutes prior to departure in stations within Greece and 50 minutes prior to departure in stations outside of Greece. Keep in mind that the airport may experience high passenger traffic depending on the time of day.
6. If you do not have any baggage to drop off, go straight to your gate at least 20' before your scheduled departure time.
7. Make sure you have the necessary travel documents and that your hand luggage does not exceed the baggage allowance of your fare, in order to avoid extra charges.
Check-in at the airport
The "traditional" way of checking-in at our counters, requires that you arrive at the airport two hours before your scheduled departure time.
The check-in counters close 40' before departure from Greek airports and 50' before departure from airports abroad.
Please ensure that:
1. You have all your needed travel documents.
2. Your baggage allowance conforms with your fare conditions.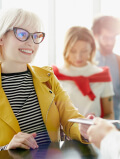 Check-in counters available
2h
before departure
Would you like to carry something extra?
You can purchase extra weight at a better price online during your reservation.
Remember that extra baggage charges are higher at the airport.
Passengers that require special assistance.
Our passengers that require accessibility/mobility assistance and all unaccompanied children flying with us, need to be at the check-in counters 90' before their scheduled departure time.
Useful links
Contact us
We are available daily 08:00 AM to 9:00 PM.
E-mail

By phone 8:00 AM - 9:00 PM

By phone 8:00 AM - 9:00 PM
(for passengers exclusively from Cyprus)
---