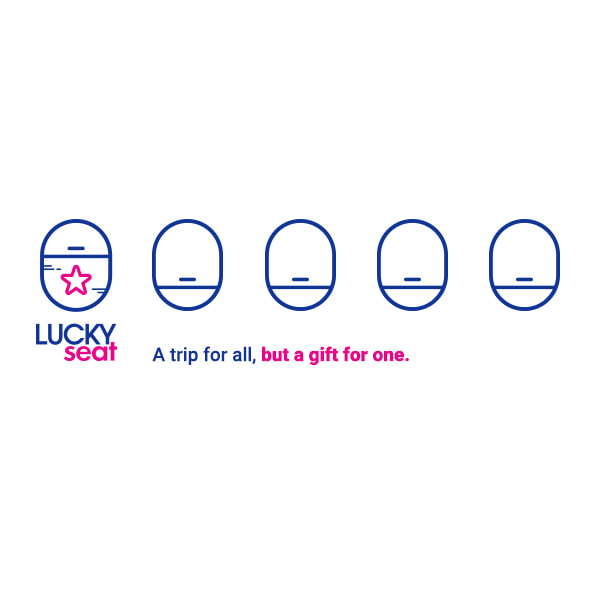 Imagine flying and winning gifts just because you sit on an airplane seat.
This is Lucky Seat.
And it's something only SKY express offers, so you can have an even greater flight.
The only thing you need to do is book your ticket, go to the airport, board the plane and sit at your seat. During the flight there 'll be a draw and one lucky seat will win.
Book your seat and you never know.
Yours could be the one.
Some good-manners suggestions
for winners, but not only for winners: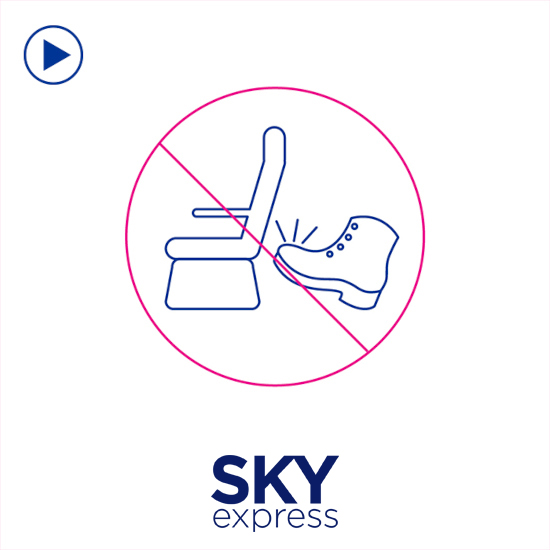 Terms & Conditions
1. The Action "LUCKY SEAT COMPETITION" (hereinafter referred to as "the Action") is organized by the company "CRETAN AVIATION OPERATIONS AVIATION AND COMMERCIAL SINGLE MEMBER SOCIETE ANONYME" with the distinctive title "SKY EXPRESS", (hereinafter the "Organizer") which will award the Lottery Prizes, as defined in article 5 and in accordance with the present terms of participation in the lottery.

2. Duration: The Action will last from 10/01/2023 at 00:01 until 31/05/2023 at 24:00.

3. Eligibility: Eligible to participate in the Action are passengers of the Organizer who board based on a valid transaction of purchase of air tickets of the Organizer by cumulatively meeting the following conditions (hereinafter the "Participants"):
a. They are adults (over 18 years old) and have full legal capacity.
b. They are passengers on Lucky Seat flights as listed in Annex A hereto.
c. They meet the substantive and formal requirements of the legislation for the ability to make air travel, the terms of the Organizer's air fare, as well as the Organizer's policies as posted on the Donor website (www.skyexpress.gr).

Employees of the Organizer or companies of the group of companies to which the Organizer belongs, as well as their first and second degree relatives do not have the right to participate in the Action.

4. Participation Procedure:
During the period of validity of the Action for each flight of the Organizer to the destinations listed in Annex A, a draw will take place (hereinafter "the Draw") for one of the Gifts of paragraph 5 hereof. Only the passengers boarding the flight will participate in the Lottery and one of them will be randomly selected through an electronic application as the winner (hereinafter "the Winner") winning one of the prizes of paragraph 5 hereof. The participation in one of the Lotteries that will take place during the Action according to the conditions mentioned in term 6 is automatic and does not require additional action from the participant except the valid purchase of the Organizer's air ticket and the passenger boarding at corresponding to the Flight Lottery. The entry in the Lottery is made automatically for all the passengers boarded on the aircraft immediately after the completion of the boarding of all passengers. Each boarding after a valid transaction of purchase of air tickets of the Organizer during the Action in accordance with the term 3 of the present, provides the right for only one (1) participation of the passenger in the corresponding flight of the Lottery. It is clarified that the participation in the Lottery depends on the date of boarding and is not related to the date of purchase of the ticket by the passenger.

5. Gifts:
- The prize of each Lottery can be one of the following:
One (1) domestic ticket with SKY express or unique gifts.

The following are clarified:
- The prize of each Lottery can be any of the above divisive defined Prizes and will be determined exclusively by the Organizer for each Lottery based on availability without the right to choose the Prize by the Winner of the Lottery.

- When the Prize is "(1) domestic ticket with SKY express", the possibility of free purchase of a round-trip ticket by the Winner on domestic flights of SKY express will apply exclusively to scheduled flights and only if seats are available.
It is recommended to the Winner of this Prize to arrange immediately and in any case within one month from the nomination of a Lottery Winner for the free reservation of his ticket as the Organizer can not guarantee the availability of a seat on a flight that interests the Winner. The redemption of the Gift "(1) domestic ticket with SKY express" will be made by sending an email to callcenter@skyexpress.com with the title LUCKY SEAT.

- Airline tickets do not include airport taxes and refer to the SKY enjoy fare type.

- The Winners will receive their Prize after the landing of the aircraft. The Prize will be delivered to the Winner by the aircraft crew or will be picked up at a point indicated by the aircraft crew.

- Gifts are personal, non-transferable and non-exchangeable. In case of refusal of acceptance or failure to search by a Winner of the Lottery Prize, within one month from the Lottery if the Prize is "One (1) domestic ticket with SKY express", or before disembarkation from the aircraft, the Organizer bears no responsibility for the return of the Prize to the Winner.

- The Organizer bears absolutely no responsibility for any real or legal defect of the Lottery Prizes and for any damage or injury that any Winner may suffer in the provision of services related in any way to the above Prizes won or in the use of such Gifts. The Organizer is not responsible for any cancellations, delays, accidents, bodily injuries, thefts or any damage to the winners during their trip or for events that constitute force majeure (such as: strikes, bad weather conditions, riots, public measures related to health and safety, terrorist attacks, etc.).

6. Lottery Procedure
An electronic Gift Lottery will be held for each SKY express flight during the Action. The Lottery will take place electronically at the Offices of the Organizer, at Building 48, Eleftherios Venizelos Airport - 1st floor, within the first five minutes after the completion of the boarding of all passengers of the flight. Each Lottery will be carried out using an automated system and specially designed software, which ensures the smoothness of the Lottery process and the absence of human intervention. The result of the Draw will be announced by the Organizer in the cockpit of the aircraft before the disembarkation of the passengers exclusively with reference to the position of the Winner as indicated on the boarding pass of the Winner.

7. In the context of this Action, the Organizer, as Responsible Processing, collects, maintains and processes the personal data of the Participants, and in particular their identification and communication details, to the extent necessary in the context of the Action for purposes are linked solely to its processing. The Organizer takes all the necessary measures and takes care of the lawful and legal collection and processing of personal data, as well as their safe keeping in accordance with the provisions of the General Regulation of Personal Data 2016/679 (GDPR), in Law 4624 / 2019 and in the specific regulatory framework of its implementation, safeguarding the confidentiality and confidentiality of any information that comes to its knowledge.

8. Participants have the right to access their personal data, the right to request the correction or completion of any inaccurate personal data, as well as, if the conditions of the regulatory framework are met, to exercise the rights of: deletion, restriction of processing , portability of their data, opposition to their processing, as well as ensuring human intervention in automated processes. To exercise their above rights, participants may submit their request in writing to the Office of the Data Protection Officer (DPO) by physical or e-mail (callcenter@skyexpress.com). In case they consider that the protection of their personal data may be affected, the participants can, if they wish, also apply to the Personal Data Protection Authority.

9. These terms of participation in the Action have been posted on the website of the organizer www.skyexpress.gr.

10. For any dispute that may arise from the interpretation or application of the present, Greek Law is applicable and the Courts of Athens in Greece become competent.

11. The Organizer reserves the right to limit or extend the duration of the Action as well as to change these terms or to cancel or postpone the Draws, with a relevant announcement on the website www.skyexpress.gr.

12. Participation in the Action presupposes and implies the unconditional acceptance of the above terms.

13. The period of time that the winner can use their ticket is from 10/01/2023 to 31/05/2023 (excluding the periods):

- 24-28/02/2023
- 24-27/03/2023
- 07-24/04/2023
- 27/04-01/05/2023

Annex Α.
ATH-SKG, ATH-RHO, ATH-LCA, ATH-BRU, ATH-CDG, ATH-LGW, ATH-FCO, ATH-CFU, ATH-KGS, ATH–AXD