Data Protection Rights Policy
SKY express S.A. ("SKY express") is committed to conducting its business in accordance with all applicable Data Protection laws and regulations and in line with the highest standards of ethical conduct.
We will need a certain amount of personal data to ensure that we offer to you the flight you booked on our network. You will always be informed on the details we request and the reason we collect and maintain your data. When you are not in direct contact with us for the purpose of flying in one of our flights, our www.skyexpress.gr site will always be up-to-date on the applicable policy. Or just e-mail privacy@skyexpress.com for questions.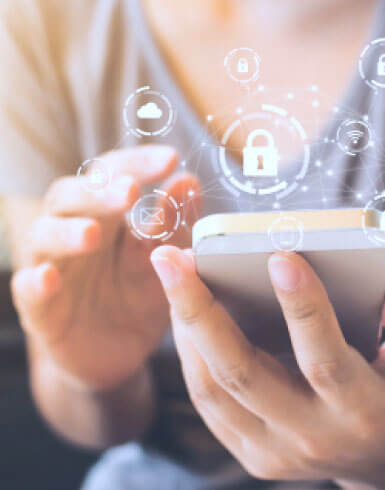 When you decide to make your travel arrangements with SKY express, you need to know that we ensure that you may always be in control of your personal details, so be sure to check out the rights our Data Protection Policy applies to you.
---
Know your Rights
When you decide to make your travel arrangements with SKY express, you need to know that we ensure that you may always be in control of your personal details, so be sure to check out the rights our Data Protection Policy applies to you.
Be always alert that when it comes to your personal information the following rights apply:
Your right to access information we may hold on you.

Your right to object to processing of any personal information.

Your right to object to automated decision-making and profiling.

Your right to restrict our right to processing.

Your right to request a Data portability.

Your right to request Data rectification.

Your right to request Data erasure.
Always Note:That we have a commitment to ensure that data requested by us are essential for concluding your flight, taking you to the desired destination and offering services ancillary to your flight coupon. We may be requested by authorities to process personal data for safety reasons.
We have principles when it comes to Data Processing
SKY express has adopted the following specific data protection principles to govern its collection, use, retention, transfer, disclosure and destruction of Personal Data for the Processing to be legitimate:
---
Principle 1
Lawfulness, Fairness and Transparency through our implemented management practices
You will always know WHAT, HOW, WHY and HOW LONG
Principle 2
Purpose limitation
It's always specific and legitimate
Principle 3
Data minimization
Never held beyond what is strictly required or beyond the period for which it is absolutely required
Principle 4
Data Accuracy
Personal data shall be accurate, and, where necessary, kept up to date
Principle 5
Storage Limitation
Kept no longer than is necessary for the purpose
Principle 6
Integrity & Confidentiality
Secure against loss
Principle 7
Accountability
We will provide you with information as requested and required
---
If you have made a flight booking through a third party that party might be considered as a Data Controller, under European Union and Greek Data Protection Law. Make sure that you consent to provide your personal information to that third party for the purposes that this party provides. The data requested might not be relevant to our service. ALWAYS make sure that you contact us for your personal data you provided to us. Booking your flight through our website www.skyexpress.gr, you can always rely on our Personal Data Privacy Policy promise.
Passengers Personal Data Protection Policy
SKY express, as a licensed Community air carrier, is governed in terms of its operation by European and Greek legislation (as our business base is located in Greece), the generally accepted and applicable aviation regulations and the Standard Operating Procedures (SOPs) at the airports where we operate. At SKY express we are committed to always act in accordance with the applicable legislation of Personal Data Protection, in the most professional way.
With effect from 25 May 2018, we apply the terms of the General Regulation for the Protection of Personal Data (GDPR EE 2016/681). Our Policy specifies the way in which we handle all the personal data of our Passengers, Employees, Partners and third parties. We have also adopted appropriate organizational and technological measures to ensure our full harmonization with the Regulation.
What is Personal Data
When we talk about personal data we refer to any personalized information about individuals, capable of leading to theirs identification, even indirectly, mainly through the use of identifiers such as name, surname, ID number, location data or one or more factors that determine physical, physiological, genetic, psychological, economic, cultural or social identity of that natural person.
We keep records of sensitive personal data, only to the extent and if necessary, which include simple health data and details of minors. Personal data is subject to predefined safety rules and regulations, which impose restrictions on the way each organization can handle them. SKY express applies stricter rules during the management of various categories of sensitive data, such as specific consent.
When does our Policy apply to you?
In order to offer you the services you have chosen on the flight of your choice, it is necessary to collect some of your Personal Data. You will always be aware of the information we request and the reason why we collect and retain your information. If you have chosen to make your reservation through a travel agent or other reservation systems, you can refer at any time to our official website www.skyexpress.gr, which is always updated with the current privacy policy or, alternatively, send an e-mail at privacy@skyexpress.com.
Every time you travel with SKY express, we know that you are always in control of your personal information, so make sure you have read your rights in accordance with our Privacy Policy.
We may collect, store or process any data that falls into the following categories:
Your name and contact details
(e-mail, address, telephone number)
When you subscribe to our newsletter
When booking an airline ticket
When booking a hotel
When you participate in our competitions or
When you choose one of our offers

Information about your reservation and itinerary, if you need extra help or if you have special requirements.
When booking a ticket or hotel
Information about your state of health, which may affect your safety during the flight
When you provide us with health information before your departure
Information about other passengers included in your booking as well as the ages of the children traveling with you
When booking on behalf of other passengers
Information regarding unaccompanied minors and personal information of their guardians
When guardians request UM service
Information about your transaction, including credit or debit card information
When buying products and services
PassengerNameRecord (Register of Passenger Names). This item includes information such as the day and time of the flight along with specific details of the flight, the name, ticket information, the date of birth, the nationality (where required), the gender, the number and type of travel document (for instance ID), the expiry date of the ID and the issuing authority of it.
When you make your reservation and after you complete your trip
Information about your flight and the services you requested from us (such as boarding time, baggage claim)
When traveling with SKY express flight
When using our services at the airport
Information about your purchases to our partners and their products and services
When you buy these products or services
Your name and e-mail and accepting direct forwarding and contact requested in flight
When you fill out our questionnaires and when you participate in the competitions in flight
Correspondence and communication with us (for example e-mails, letters or telephone communication)
When contacting with SKY express
SKY express posts and messages on social media
When you interact with us on social media
Information about how you browse our website such as when searching for flights
When you browse our website
We handle your data with great care
SKY express processes your Personal Data in accordance with applicable law and its contractual commitments. Specifically, SKY express will process your data only if at least one of the following conditions applies:
You, as data subjects, have given your explicit consent for one or more specific purposes.
The processing is necessary for the fulfillment of our contractual obligation towards you or for the execution of your specific request for the preparation of a contract, including the issuance of a ticket (considered as a transport contract).
Processing is necessary for our compliance with an existing legal obligation to which we are subject as processors.
Processing is required to defend your vital interests or those of another natural person.
Processing is mandatory for the execution of an obligation of public interest or action that has been legally entrusted to SKY express due to its capacity as responsible for processing.
Processing is mandatory to safeguard the legal rights of processors (namely SKY express) or the rights of third parties (unless they are subject to the obligation to safeguard fundamental rights and freedoms, especially in the case of children).
Personal data relating to your state of health is collected solely in the context of safety requirements under IATA Regulations and Standard Operating Procedures (SOPs) to ensure your in-flight safety. This information is provided to us only with your consent, is part of your ticket and is retained for a period not exceeding three (3) months, for normally performed flights. Special rules and retention rights apply in other cases, as listed in the Table SKY express Data Retention.
Consent for personal data of a minor passenger is obtained from the persons who have custody of him. However, it is pointed out that when the processing is required by law, the processing required by law can be performed without the consent of the guardian.
According to IATA regulations, special documents as well as the completion of a special application for the transportation of an unaccompanied child (UM) are required for minors who are accepted as unaccompanied travelers. The relevant documents are managed according to the standard procedures for this purpose and are delivered to the cabin crew and to the airline, too for safety. The consent of the guardian is a condition for the transfer of an unaccompanied minor. In the processing of personal data concerning minor passengers, the strict safety rules apply.
Reasons to use your personal data
We will use information that concerns you for:
Ensure that you have boarded the flight of your choice
Complete the boarding process with safety
To provide services you requested
To ensure your transfer on a connected flight

Always be informed about our itineraries, our new services and to share with you our news and offers
Be notified in a timely manner of any delays, cancellations or changes to your flight
To take care of your safety every time you travel with us
Comply with obligations arising from current legislation
Conduct statistical reports in order to improve the services offered to you
To improve our website, our products and services
We will respect your wishes regarding the communications you wish to receive and how to receive them
You have Rights
The EU General Regulation on the Protection of Personal Data (effective from 25 May 2018) imposes, inter alia, also on air carriers the obligation to ensure the free exercise of your rights and the obligation to inform you about the requested items in a clear and comprehensible way.
We at SKY express worked to create the process that will allow and facilitate the exercise of your rights. You can visit the website www.skyexpress.gr for detailed information or send an e-mail to the Department of Personal Data Protection at the address privacy@skyexpress.com.
Remember that when it comes to your personal information you have the following rights:
The right of access to information we may hold
The right to refuse the processing of any personal data
The right to refuse automated decision making and profiling
The right to restrict the processing of personal data
The right to data portability
The right to correct data
The right to delete data
REMEMBER that the data we request from you is necessary for the completion of your flight, in order to transport you to the destination of your choice and to offer you any additional service you may request.
We may be required by the authorities to process your personal data for safety or regulatory compliance purposes.
We will respect your choices regarding the processing of your personal data. See how to submit requests by selecting Right of Access.
We have Rules
SKY express has adopted a specific system of general Rules governing the collection, use, storage, transfer, transmission and destruction of Personal Data governing all legal processing of them:
Rule 1: Legitimacy, objectivity and transparency in applicable personal data management practices
You will always know WHAT, HOW, WHY and FOR HOW LONG
Rule 2: Limitation of purpose
It is always specific and legal
Rule 3: Data minimization
We never keep something unless it is absolutely necessary or for longer than required
Rule 4: Data accuracy
Personal data will be accurate and, if necessary, updated.
Rule 5: Limit storage period
The maintenance does not exceed the period of time that is necessary for the corresponding purpose
Rule 6: Integrity and confidentiality
Data safety and protection against the risk of loss or illegal processing
Rule 7: Accountability
We will let you know whenever you request and when necessary
If you have made a reservation through a third party, this party may also be responsible for processing in accordance with the Law, so make sure that you agree to provide your personal data for your own purposes, in a manner acceptable to you. The requested data may, in these cases, not be related to our service.
Ask us for the personal data you gave us directly. By making your reservation directly and exclusively from our website www.skyexpress.gr, you will always be sure of the safety of your personal data.
How and Why we share your personal data
SKY express also cooperates with third parties for your complete service.
Whenever third parties process your personal data on behalf of SKY express - namely, whenever SKY express outsources part of the processing to external partners - SKY express enters into a relevant agreement. When we trust third party processing activities, SKY express checks whether the external partner implements procedures of adequate control and protection of personal data in accordance with the General Regulation on Personal Data Protection. SKY express sets clear instructions to its partners for the protection of your personal data.
Individuals and companies that process personal data on behalf of SKY express receive specific formal guidelines regarding the processing of personal data, the measures they must take to protect the data, including those concerning their employees, who process personal data.
Data Violations
In case of violation of personal data, SKY express is obliged to notify the violation to the competent Audit Authority by providing specific information regarding the nature of the violation, without undue delay and in any case no later than 72 hours from the moment SKY express became aware of the violation.
When the breach of personal data results in a high risk to the rights and freedoms of the natural person, the data subject will be informed without delay.
Any natural person suspected of having violated personal data either due to theft or due to exposure must immediately inform the Department of Personal Data Protection at the email address privacy@skyexpress.com. All incidents are recorded and maintained for educational purposes, using the methods of anonymization or pseudonymization.
The Department of Personal Data Protection will investigate any reported incident to confirm if there has been a breach. If the violation is confirmed, the Department of Personal Data Protection will apply the prescribed procedures taking into account the importance and the volume of information to which the violation relates.
In particularly serious cases of personal data breach, the legal advisor of SKY express, assisted by the Personal Data Security Officer, will organize and coordinate a response team in order to properly manage the breach.
The Passenger Name List (PNR) Directive and our obligations
We may be required, at any time, to submit data relating to you to a competent official Authority in compliance with legal obligations or requirements, such as passenger name record (PNR) obligations or other legal passenger obligations.
Requests for personal information
You always have the opportunity to contact the Department of Personal Data Protection at privacy@skyexpress.com using the information described in the Right of Access.
THE RIGHT OF ACCESS
In order to request information about the personal data that SKY express keeps for you, please send an e-mail to privacy@skyexpress.com.
When contacting the Company's Personal Data Protection Officer, always indicate "Personal data request" in the subject line of the message and clearly state the following personal information:
Your name and surname
Description of the data you request (such as booking / flight details with SKY express), including booking date and flight date / number, all email addresses (existing and old) used for booking flights and an attached copy of the current official identity.
The details of the booking application or travel agent that you used to book the flight, in the case that you did not make your purchase through the company website.
The above information is absolutely necessary to identify the personal information you request and will be used solely for the purpose of responding to your request.
The processing of your request will be completed - in accordance with the applicable provisions - within 40 days from the date of receipt of ALL the necessary information.
Although we will take care to complete your request within the above deadline, no relevant guarantee is provided in this regard.
Note:
Lack of information will lead to a delay in completing your request, and SKY express reserves the right to charge a management fee of € 5, according to current legislation.
Upon successful completion of the search, your request will be kept anonymous in the company's Personal Data Request file, in accordance with the provisions of the General Regulation of Data Protection.
For any questions please contact the email address privacy@skyexpress.com
Notifications / Newsletters
We may use data provided by you for the provision of services to you and we may use data provided by you to send to you, subject to your consent, newsletters, promotion products and offers, flight recommendations, tailored travel offers and notifications for baggage carriage conditions and choices, or to contact you by telephone, to perform marketing campaigns, direct marketing and sales promotion activities, to manage requests for deletion from update lists, to create and manage questionnaires, customer comments, researches and statistics, to organise lotteries, contests and offers, to manage customers' claims and complaints.
You may receive relevant e-notifications, if you have given your consent to receive traveling opportunities, reservation information or advertisements.
We abide by legal requirements for opt-in/opt-out options when sending you marketing communications. You can easily opt-out from any communication by sending e-mail at the following e-mail address or by communicating the withdrawal of your consent by any other legitimate means of contact with SKY EXPRESS.