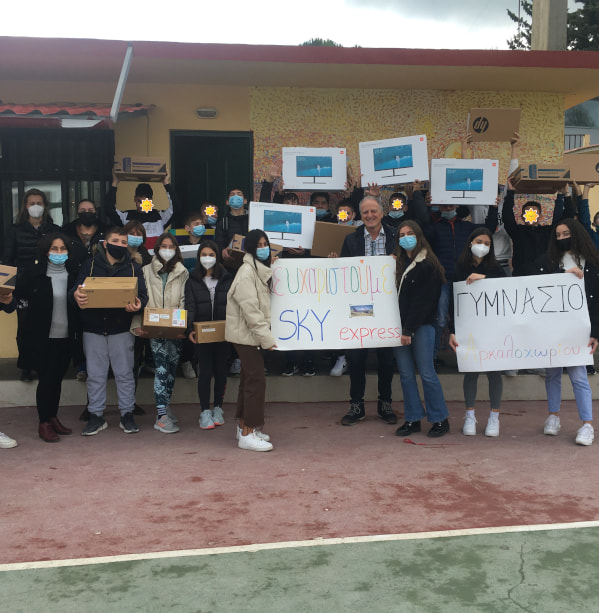 The IOGR Group is always by the side of the earthquake victims in Arkalochori
Dec 29, 2021
The support initiative, in addition to provision of meals, extends to meeting the housing needs of the affected area and providing electronic equipment to schools.
The IOGR Group strengthens its moral and material support to the long-suffering residents of Arkalochori of the Municipality of Minos Pediados in Crete who were affected by the catastrophic earthquake back in September.
The feeding program recently announced by the IOGR Group is already in progress by providing 1000 meals per day and for the next five months to all earthquake victims.
In addition, by decision of the Group's CEO Mr. Ioannis Grylos, the IOGR Group further strengthens its efforts for support towards the victims. Specifically, it undertakes to cover the recurrent costs of housing them in units /temporary housing accommodation, while it proceeded to the purchase of electronic equipment for the smooth operation of schools (Middle and High School of Arkalochori).
This is the way the IOGR Group chose to express its solidarity with the people directly affected, but also with the wider local community of Arkalochori that is being tested.
As underlined by Mr. Ioannis Grylos, CEO of IOGR Group: "From the first moment the magnitude of the disaster was common language, we are on the side of our compatriots, ready to respond to planned and emergency needs that arise. We are actively participating in the overall effort so that Arkalochori and its inhabitants stand on their feet stronger than ever ".
On behalf of the Municipality of Minos Pediados, the Mayor Mr. Emmanouil Gragkakis, while thanking Mr. Grylos and the IORG Group for the invaluable help, he mentioned inter alia that "the immediate response, the selfless offer and the practical expression of solidarity with the coverage of the increased needs brought about by the catastrophic earthquake, offer valuable relief to all the inhabitants of Arkalochori who are being tested".
About the IOGR Group
The IOGR Group, founded by the businessman Ioannis Grylou, is a strong and dynamically rising Group of companies with a significant presence in various sectors that employs more than 5,000 employees. Most of its work is covered by the aviation sector, both in the flight segment with SKY express, and the ground service in cooperation with Skyserv and Swissport SUD, with a presence at 36 airports in the country and customers of more than 250 airlines. The presence of the Group in the field of Tourism, logistics, Energy and financial services is important.