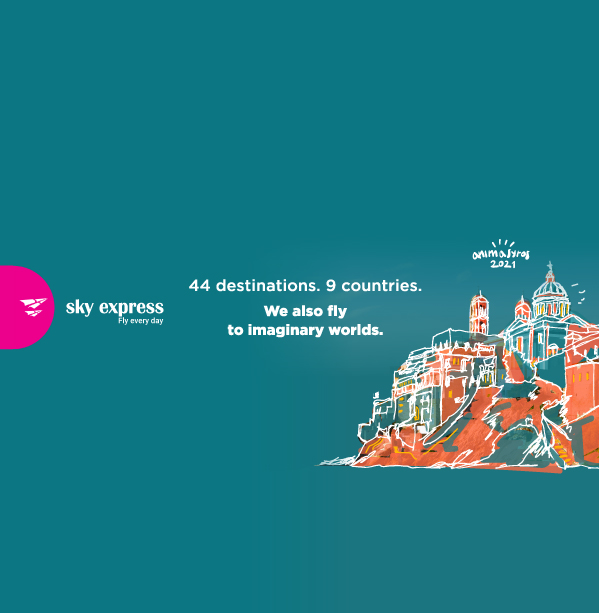 Fly with SKY express to AnimaSyros
Sep 23, 2021
The company is the official aviation sponsor of the Animasyros International Animation Festival which will take place from September 22 to 26 in Syros. This way, it supports the contemporary artistic creation having our country as the main focus and attracts global interest.
More than 120 visitors from all over the world will visit the capital of Cyclades to participate in the largest Festival of this kind in Greece and one of the 20 most important festivals in the world, held for the 14th year.
On the occasion of the 200th anniversary of the Greek Revolution, this year's event is dedicated to Freedom. It draws inspiration from the well-known phrase of Theodoros Kolokotronis in the speech he delivered in Pnyx, "Like rain, the desire for our freedom fell on all of us [...], and we made the Revolution."
For five days, participants will have the opportunity to watch an impressive program with screenings of animated short and feature films from around the world, tributes to creators and animated films from the wider Mediterranean region, competition sections, educational activities etc.
According to the Marketing Manager of IOGR Group and SKY express Mrs. Despina Katsika "It is with great pleasure that we actively participate in this year's event of a very popular and internationally recognized festival, AnimaSyros. As the official sponsor of aviation, SKY express undertakes the transport of the members of the event organization in Syros, creating the bridge to meet the love for the modern art form of animation across the four corners of the world in the capital of our Cyclades".
As the President of Animasyros International Animation Festival mentioned: "We are excited to launch our partnership with SKY express, a company with extremely dynamic growth, also being the carrier that meets the needs of the place where Animasyros was born and hosts. This collaboration contributed decisively, so to make possible for this year's event for great names of the international anime scene to visit the island of Syros and our Festival, and for that we are grateful".
About the Animasyros International Animation Festival
The Animasyros International Animation Festival started its journey in the world of anime on September 19, 2008 in Syros and since then it has been meeting every September in the capital of the Cyclades. This year, Animasyros 2021 took place on September 22-26 2021, in phygital format. The annual event of Animasyros is structured in three main pillars, the artistic program, the educational programs and the Market section, while there were parallel activities, such as exhibitions, concerts and parties.
Animasyros started as an initiative of the Non-Profit Urban Company "PLATFORMA-Urban Culture Company", to highlight and promote the cinematic art of animation to the public, while aiming at the establishment and maintenance of a creative and creative network of professionals in the field of anime on a pan-European and international level.