We were awarded with two immense European distinctions!
AwardsOct 13, 2023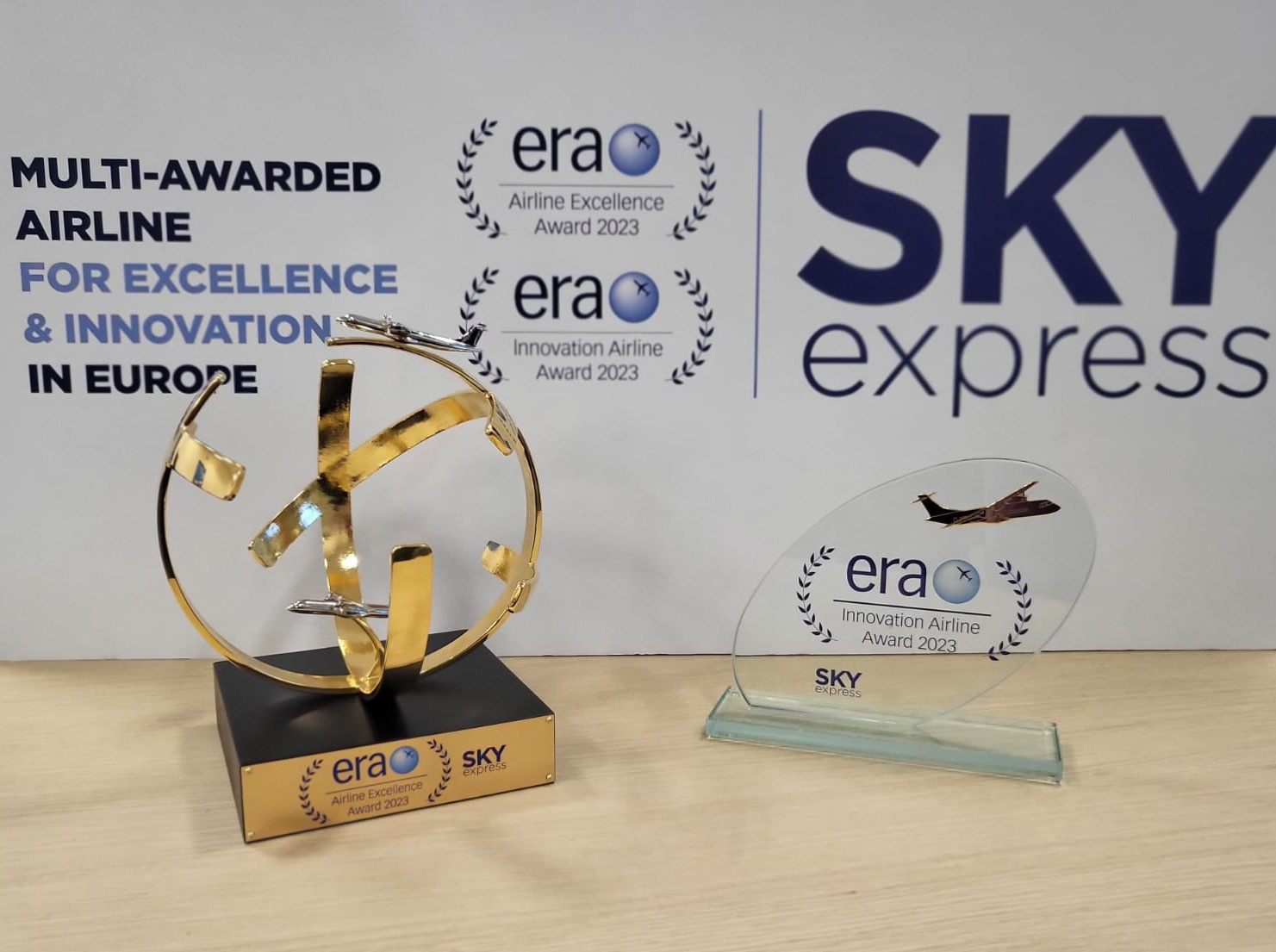 🏆 ERA Airline Excellence Award 2023 🏆
🏆 ERA Innovation Airline Award 2023 🏆
It is with immense joy and pride that we share the remarkable news that we have been honoured with not just one, but two prestigious ERA awards (European Regions Airline Association): the Airline Excellence Award 2023 & the Innovation Airline Award 2023. These two awards are related to our remarkable work in innovating and excelling in the aviation sector further solidifying our position as a trailblazer in innovation and a paragon of excellence in its field.
The synergy between the passionate human capital, the supportive working environment, the effective procedures, as well as the appropriate aircraft and engine selection throughout the years have been a powerful catalyst for innovation and excellence within SKY express, driving its success and competitive advantages.
More specifically SKY express has been awarded:
The ERA Airline Excellence Award 2023
The ERA Innovation Airline Award 2023
SKY express has won these two prestigious awards based on its innovative performance and due to being the fastest growing airline in number of flights in 2022 since COVID-19 amongst all airlines in the entire network according to Eurocontrol statistics. SKY express has demonstrated a clear commitment to innovation progressing in every aspect of technology and IT with innovation at the heart of the strategy to drive its performance and to drive the company to excellence.
The first honor, the ERA Airline Excellence Award 2023, has been awarded to SKY express, for being the fastest growing airline in 2022, with the largest flight operations increase for 2022 in Europe since COVID-19 amongst all airlines in the entire Eurocontrol network according to its statistics, that was not a major carrier neither a main low-cost carrier, but an ERA member regional airline, a Greek carrier.
This award underscores the company's unwavering dedication to achieving the highest standards of quality and performance and recognizes its consistent delivery of exceptional results, its commitment to exceeding passenger expectations, and its dedication to excellence in all aspects of its operations.
The second accolade, the ERA Innovation Airline Award 2023, celebrates SKY express's outstanding commitment to pioneering innovation within the industry. The award acknowledges the company's relentless pursuit of groundbreaking solutions, its forward-thinking approach to challenges, and its capacity to transform the industry landscape through innovative practices. Its overall innovation strategy is highlighted:
in a unique collaboration with Google through an innovative digital marketing strategy, which drove brand awareness and nurtured brand loyalty both domestic and internationally, leading to increased load factors and profitability.
in further digital developments reflected to all the departments and operations of the company which among others have supported efficiencies in line maintenance and in the sustainability plan.
in initiatives that have improved the staff working arrangements of the remote call Center.
These dual awards highlight the unique and impressive fusion of excellence and innovation that defines SKY express. By excelling in both categories, the company has demonstrated its ability to not only push the boundaries of what is possible but also to deliver exceptional value to the aviation sector.
Mrs. Christidi Vassiliki, ERA Vice President & General Manager of IOGR GROUP (SKY express) stated: "I am truly honored to accept this ERA AIRLINE EXCELLENCE AWARD 2023 on behalf of SKY express, the Greek carrier with the largest flight operations increase for 2022 in Europe. This recognition reflects the dedication and hard work of every member of our organization who consistently goes above and beyond to deliver excellence to our passengers and stakeholders. In addition, this award serves as a powerful reminder that we are on the right path, and it motivates us to continue raising the bar and striving for even greater achievements. I want to express my deepest gratitude to our team for their relentless pursuit of excellence. Together, we will continue to set new benchmarks and ensure that excellence remains at the core of everything we undertake."
Mr. Gerasimos Skaltsas, Chief Commercial Officer, SKY express pointed out: "I am immensely proud to accept this ERA Innovation Airline Award 2023, which recognizes SKY express's unwavering commitment to pushing the boundaries of what's possible in our industry. Innovation is deeply engraved in our DNA and a cross-functional process that involves multiple aspects of our airline. This award is a testament to the hard work and dedication of our entire team, who consistently drive innovation in our products and services. To all of us at SKY express innovation is not just a goal; it is a mindset, a way of doing business and a driving force in order to constantly redefine the travel experience of our passengers and ensure our rapid growth path."