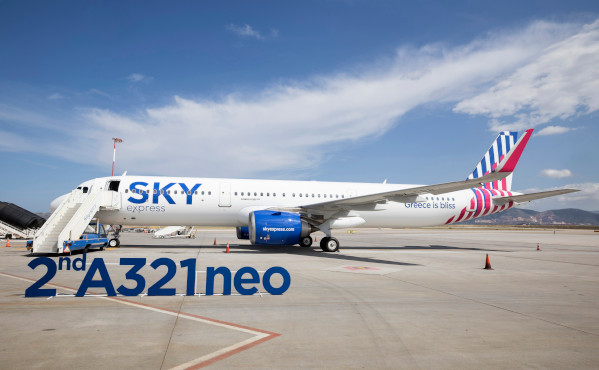 A new growth cycle begins! Receipt of the second AIRBUS A321NEO
Jun 8, 2023
As part of the implementation of its investment plan, SKY express received the second AIRBUS A321neo, with the addition of which, its fleet now counts 23 aircraft.
With the new delivery, the company's fleet remains the youngest fleet in Greece, one of the most environmentally friendly in Europe, but also an environmentally responsible choice for the passenger.
Moreover, with this second addition to its fleet, the company strengthens in practice the level of social and environmental responsibility of its flight project with the positive footprint summarized in the following:
Reduction of CO2 emissions by 20%
Reduced noise footprint
50% reduction in NOx emissions
25% less fuel consumption/position
Longer flight range by 500 nm / 926 km
Theodoros Krokidas, Chairman of the Board of SKY express, noted: "We are delighted to welcome the second AIRBUS A321neo. Almost two years ago, within the pandemic, we continued to fly to every single destination in our network and modernize our fleet by implementing, using our own funds, one of the largest investments worldwide in the field of aviation. The result of this dynamic course was the acquisition of 8 new AIRBUS A320neo, one AIRBUS A320ceo and 6 ATR 72-600. Today, the importance of adding our 23rd aircraft is great, as it is not only the successful completion of the first part of our investment plan, but also marks a new growth cycle for SKY express, Greece and the economy at large through the further exploitation of the domestic tourism product and local entrepreneurship as a whole."
SKY express is the major Greek airline that contributes decisively to the strengthening of the country's tourist traffic this summer too with more than 3,800,000 seats on offer, increased by 20% compared to last year and operating to and from 64 airports in Greece and abroad.
The two AIRBUS A321neos are expected to help increase the airline's flying work and destinations and further enhance the routes to and from London and Paris.