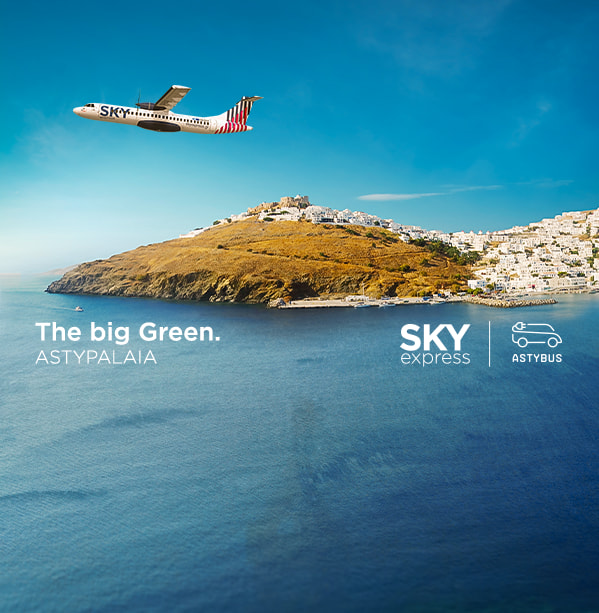 SKY express supporting the "green" transition of Astypalaia
Jul 21, 2022
The country's greenest airline actively participates in the innovative project of transforming Astypalea into the first "smart and green" Mediterranean island.
SKY express took over as "Smart Sponsor" the acquisition and operation of "ASTYBUS" on the island. An innovative "green" passenger transport service with the pure electric vehicles of Volkswagen accessible to all residents and visitors of Astypalea.
The energy is part of the expected timetable of the project and in particular the pillar concerning the upgrading of the transportation on the island with "sustainable" means of transport, with simple and electronic reservation systems and flexible schedule - according to the island's needs, demand - and – routes - wise.
The official presentation of the "ASTYBUS Service" took place yesterday in Astypalea in the presence of the Greek Prime Minister, Mr. Kyriakos Mitsotakis and the CEO of Volkswagen, Mr. Herbert Diess, which the Owner of SKY express Mr. Ioannis Grylos also attended.
The all-electric vehicle ID.Buzz, the successor to the legendary Bully, was launched there for the first time in the world and will be used as a bus for the movement of residents and tourists. The ASTYBUS fleet, initially consisting of three (3) such vehicles, is immediately put into operation. The aim is to reduce and gradually eliminate the total dependence on cars and hired cars, especially during the tourist season.
As stated by Mr. Ioannis Grylos, Head of SKY express: "Sustainable mobility not only is it a priority for SKY express, but also a model which we have chosen to operate and grow business with. We support any action in this direction. Especially when it comes to pioneering projects of international importance linked to the overall upgrading of our country."