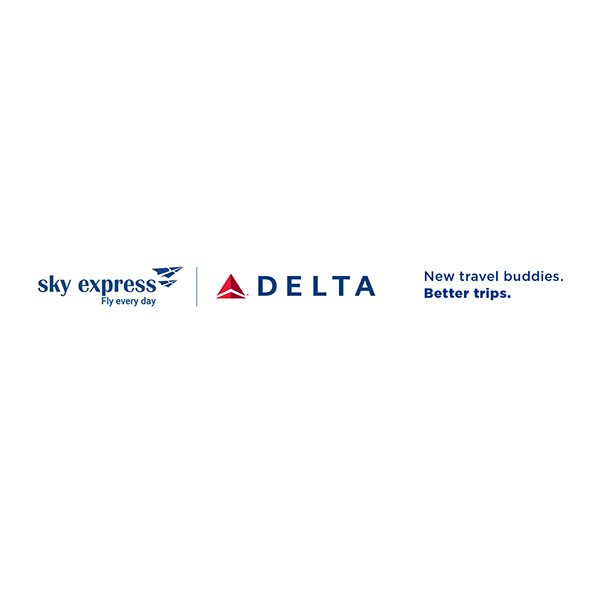 SKY express partners with leading Delta Air Lines
May 19, 2022
The partnership is another milestone for SKY express, offering even greater opportunities for North American travellers and connection to the largest network of destinations covered by SKY express throughout Greece.
Effective May 19, 2022, Delta customers flying from North America will be able to fly on one of Delta's daily nonstop services to Athens then connect to one of the 34 unique destinations across Greece operated by SKY express. And this with the country's youngest and greenest fleet and one of the most environmentally friendly in Europe.
Through the strategic agreements with global carriers such as Air France, KLM, Qatar Airways, American Airlines, Cyprus Airways, Condor, El Al, Middle East Airlines as well as Transavia, Emir-ates, SKY express actively aims to further increase demand and upgrade the quality of the greek tourist product.
"Greece is one of the most sought-after destinations this summer for American travellers and with trade and tourism flows increasing between our countries, Delta's partnership with SKY express gives our customers more versatility when it comes to planning the perfect Greek getaway," said Perry Cantarutti, Delta's senior vice president Alliances. "Customers will be able to hold a single Delta ticket and check their bags from North America all the way to their final destination, providing customers with a seamless service to some of the most beautiful islands in the Mediterra-nean."
Yiannis Lidakis Commercial Director of SKY express, said: "The agreement with Delta comes as a result of systematic work and discussions and makes us very happy. It is based on the combina-tion of the youngest and greenest fleet and an unrivalled network that will allow travellers across the U.S. to connect to the magical charm of our country."
About Delta
More than 4,000 Delta Air Lines (NYSE: DAL) flights take off every day, connecting people across more than 275 destinations on six continents with award-winning operational excellence, customer service, safety and innovation. As the leading global airline, Delta's mission is to create opportunities, foster understanding and expand horizons by connecting people and communities to each other and their potential. Delta's more than 75,000 employees believe our customers should never have to choose between seeing the world and saving the planet. Delta is leading the travel industry in building a foundation for sus-tainable aviation with its Flight to Net ZeroTM and its intention to set science-based targets for green-house gas emissions aligned with the Paris Agreement. And we are continuing to take action to ad-vance diversity, equity and inclusion and to reflect the world and the passengers we serve.
Delta is the America's most awarded airline recognized by Fortune, the Wall Street Journal, and Business Travel News, among many others. Delta has served as many as 200 million customers annually. Headquartered in Atlanta, Delta operates significant hubs and key markets in Amsterdam, Atlanta, Boston, Detroit, London-Heathrow, Los Ange-les, Mexico City, Minneapolis-St. Paul, New York-JFK and LaGuardia, Paris-Charles de Gaulle, Salt Lake City, Seattle, Seoul-Incheon and Tokyo. Powered by innovative and strategic partnerships with Aer-omexico, Air France-KLM, China Eastern, Korean Air, Virgin Atlantic, Delta brings more choice and competition to customers worldwide.