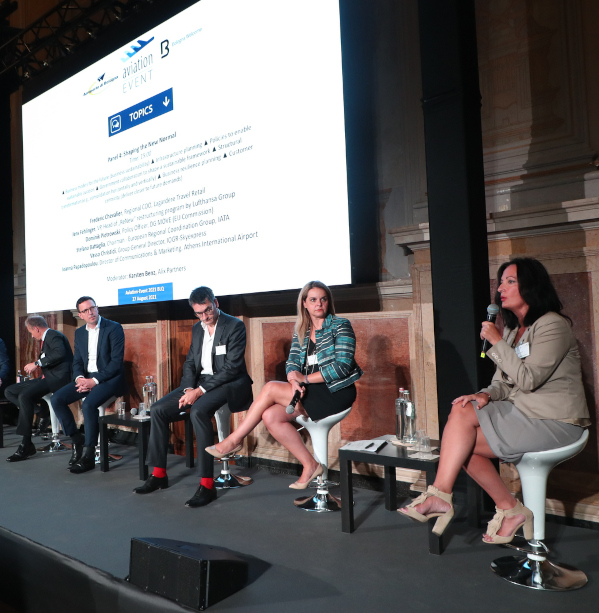 SKY express at the heart of Aviation Event 2021 on the prospects of recovery of aviation
Sep 10, 2021
The successful example of the airline gained the interest of the representatives of the global aviation market who attended the International Conference "Aviation Event 2021" to discuss strategies and the best practices for the recovery of the sector.
The fastest-growing Greek airline actively participated in the proceedings of the Conference that took place in Bologna on August 27 which for one more year incited the international interest of experts in the field of aviation and tourism.
SKY express was represented by Ms. Vasso Christidi, IOGR Group General Manager who participated in the panel on "Shaping the new Normal" presenting the case study of the airline. In this context, Ms. Christidi pointed out that: "The aviation industry must reengineer its future around three Greek words: "*Pandemic, drawing lessons from the crisis but also joining forces, as the challenges affect everyone. Climate, with our eyes fixated on the environment and sustainability. Dynamism, for the restart of the aviation sector, after an unprecedented crisis."* Referring to SKY express, she stressed that the airline, throughout the period of the crisis "reinvented itself". "As a business entity, in terms of flight operation and fleet modernization, it has adopted a sustainable development model. It has also digitalized its services, giving greater flexibility to customers, with the result being that today, the company is constantly increasing its market share in the markets where it operates". The content of the speeches focused on the critical issues that affect the industry as a whole, but also possible ways of recovery in the current circumstances. Among the sustainable development, investments, innovation, infrastructure and new approaches, the speakers reviewed the situation and laid out their own strategic proposals for the future.
The presence of SKY express in the event showcased its dynamic navigation through the critical period of the pandemic emerged. The expansion of its domestic and international network, the systematic investment in the modernization and upgrade of its already "green" fleet with state-of-the-art Airbus A320neo and ATR 72-600 and the commitment to sustainable development and environmental protection, attracted the interest of the participants and reaffirmed its capacity as the fastest-growing Greek airline.
More than 30 national and international speakers , 160 participants and a large number of specialized media, took part in the event that aimed to give impetus and breathe new life to a sector severely stricken by the pandemic, indicating a common ground for a sustainable recovery, forging an industry capable of adapting to extreme and sudden events.
Bologna Airport, in collaboration with Bologna Welcome, hosted the initiative which was held in the historic setting of Palazzo Re Enzo on August 27.
About Aviation Event 2021