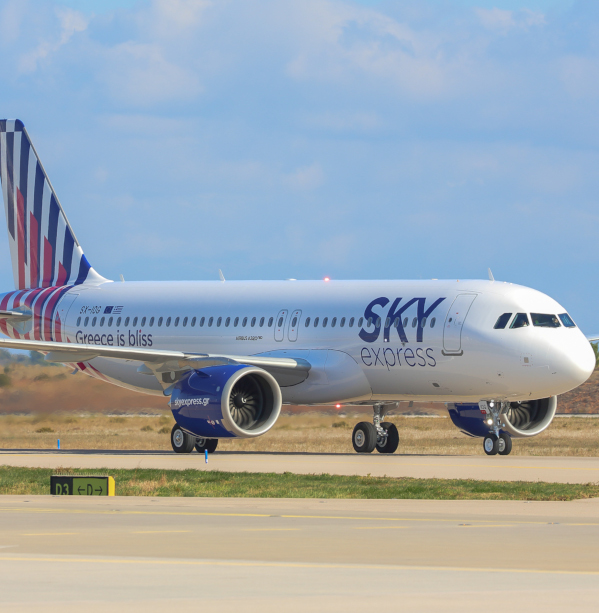 SKY express participates at the Aviation Event for the stuffing challenges of the industry in the post-covid era
Jul 21, 2022
New hiring and salary increase by the "greenest" airline in Greece
Gerasimos Skaltsas, CCO of SKY express, referred to the substantial changes required to eliminate the issues in the aviation sector that have been recorded internationally.
Speaking at the Aviation Event, which took place last Friday in Athens, Mr. Skaltsas mentioned that just recovered of the coronavirus pandemic has not been an easy task. Many came out injured, many were forced to reevaluate their functioning, which isn't always easy. Employees who temporarily lost their jobs have turned elsewhere, resulting in many cases in staff shortages even at large airports.
In this direction, he said, it is important for the sector to become attractive again for young people who are looking for stable jobs, which requires satisfactory jobs, a healthy working environment, good salaries, and opportunities for development.
Mr. Skaltsas then referred to SKY express's initiatives in this direction. As stated, SKY express along with the big investment in the renewal of its fleet with state-of-the-art aircraft, maintained all its staff during pandemic, proceeded with new jobs opening and salary increases, bringing salaries back to pre-coronavirus levels, and has created a healthy working environment with equal opportunities for those who work in it. It is characteristic, he said, that at SKY express, 1 in 2 positions of administrative responsibility are occupied by women.
In closing, Mr. Skaltsas expressed his optimism for this year's tourist season and reiterated that imme-diate and coordinated actions by all are needed in order for the air transport industry to acquire a per-manent and sustainable dynamic, so that this year's rise is not temporary.