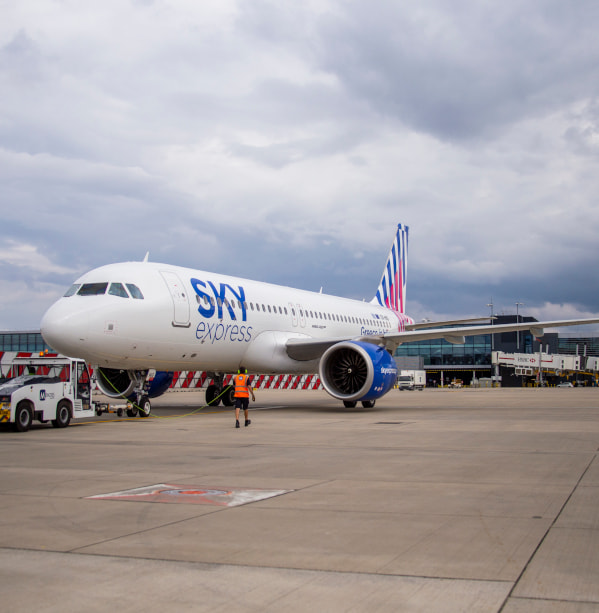 Heathrow calling… SKY express! Direct flights to London have started!
Aug 3, 2021
Europe's largest airport welcomes the fastest growing Greek airline
From August 1st, SKY express brings London, one of the most popular choices among trav-elers around the world, even closer to Athens with direct flights every day of the week except Saturday.
The new route will be operated by the state-of-the-art "green" Airbus A320neo fleet directly con-necting Heathrow Airport with Athens International Airport at affordable and highly competitive fares and with personalized digital services.
After Larnaca, Brussels, Paris, Rome, Hamburg, etc. London's integration into the network of the fastest-growing Greek airline significantly strengthens its presence in the leading European hubs. At the same time covering 48 destinations in 9 countries and with the prospect of expanding its flight schedule, SKY express is now operating with high ambition in the global aviation field.
SKY express Sales Manager, Anna Katsaneva, stated: "Today SKY express launches its connec-tion with one of the largest metropolises in the world. London is our latest international addition we fly to and England the eight country we build bridges with. Our evolution as of lately fills us up with deep satisfaction as it is based on solid foundations and commitment to the strategy that has oved us upwards in the market, but most importantly in the public preference".
Heathrow CEO, John Holland-Kaye, said: "It is great news that SKY express will be launching soon from Heathrow and shows the continued level of demand from new entrant airlines to the UK's hub airport. We hope that an expansion by the UK Government of the green list to include low risk destinations such as Greece, will ensure passengers can make the most of these new services".
Travelers from London have a choice to fly onwards on the largest network of destination in Greece (35) served by SKY express and also to select among different fare types (SKY joy, SKY joy+ and SKY enjoy). At the same time, passengers on the Athens-London route enjoy a special travel experience with free service, premium branded products, but also the new on-board Drinks & Bites menu.