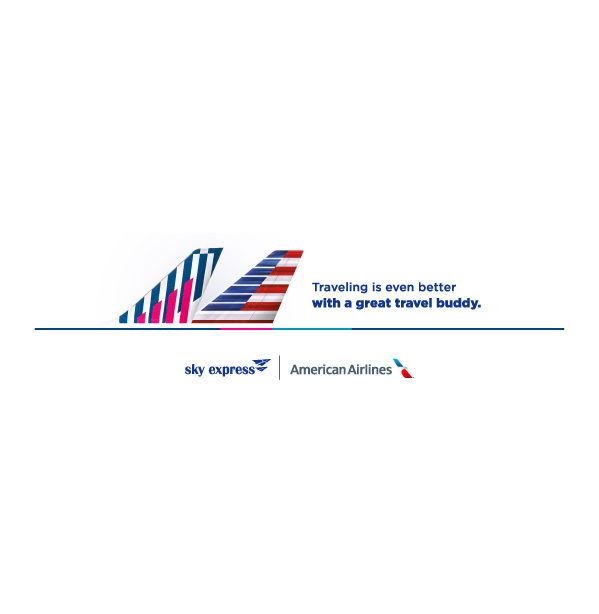 Cooperation with American Airlines
Sep 13, 2021
The company that is changing the country's aviation landscape keeps strengthening its strategic position, its interconnections and the options it offers to passengers
The new interline collaboration between SKY express and American Airlines, hones the condi-tions for greater traveler inflow from America, as it realizes the possibility of booking a single ticket across the networks of both air carriers.
This deal significantly facilitates the process of organizing a trip from the USA to the European countries that SKY express operates and then onwards to anyone of its 35 Greek destinations.
The strategic alliance with American Airlines, one of the largest international carriers, compli-ments the existing interline agreements of SKY express with Air Serbia, Qatar Airways, Air France, KLM, Middle East Airlines and Cyprus Airways.
The airline that is changing the Greek aviation landscape continues its dynamic development abroad, taking another step towards its establishment in the international market. At the same time, it fulfills its commitment to support the national economy and the effort for inbound tour-ism throughout the year.
"We are excited to work with American Airlines. This collaboration is the outcome of our ystem-atic efforts, which are acknowledged by globally acclaimed airlines that honor us with their trust. It is an important factor of our strategy to upgrade our services in order to offer our passengers more options while reinforcing our country's position as an attractive destination all year round," underlined Mr. Yiannis Lidakis, Commercial Director of SKY express.
About American Airlines
American Airlines together with regional partner American Eagle, we offer an average of nearly 6,700 flights daily to 350 destinations in 50 countries. We're a founding member of the oneworld alliance, whose members and members-elect offer nearly 14,250 flights daily to 1,000 destinations in 150 countries. In 2016, American Airlines Group Inc. topped Fortune maga-zine's list of best business turnarounds and its stock (NASDAQ: AAL) joined the S&P 500 index.
Founded in 1930, we're now one of the largest airlines in the world. Throughout the years, Amer-ican has created more than 900,000 jobs worldwide and supported close to 1,400 nonprofit or-ganizations.
The oneworld alliance is a group of the world's leading airlines; committed to providing the highest level of service and convenience to frequent international travelers.
Information about flights and services for American Airlines:
FB: https://www.facebook.com/AmericanAirlines
TT: @AmericanAir