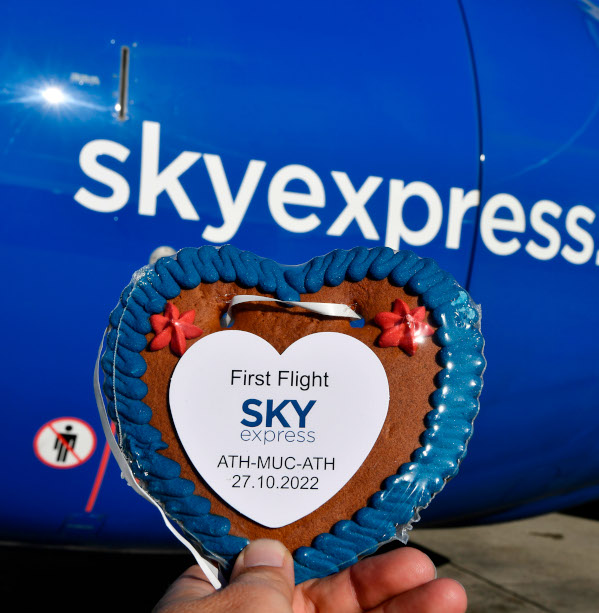 Athens – Munich direct flights have started
Nov 7, 2022
A cordial welcome for the Greek airline of the future at Munich Airport.
SKY express launched the Athens-Munich direct connection on Thursday, October 27, offering passengers a new travel proposal, five days a week on the most competitive terms.
Representatives of Munich Airport welcomed the passengers of the first flight in the best way possible, wearing traditional costumes, treating the aircraft with the standard water salute upon arrival, but also offering local sweets on disembarkation.
The route is of strategic importance as it increases connectivity between the two destinations with traditionally strong links, while connecting Munich with 34 destinations in Greece as well as Larnaca. Thus, travelers from Greece and respectively from Munich now have the opportunity to travel with comfort but most importantly with the greenest fleet in Greece and one of the most environmentally friendly in Europe.
Our passengers as always, can choose the fare that meets their personal needs (SKY joy, SKY joy+, SKY enjoy) and enjoy a special flight experience. In the aircraft, apart from free service, they have the opportunity to taste premium branded products with SKY Drinks & Bites service.
The inclusion of Munich in the international network covered by SKY express all year round is the result of an assessment which took into account the role of this particular destination in the lengthening of the tourist season.
As stated by Mr. Vassilis Krasanakis, Network Planning & Pricing Manager, SKY express: "At SKY express we are proud of the inclusion of the Bavarian capital in our flying schedule. A destination with a special connection for the Greek international community, which was part of the airline's plan all along. Direct flights five days a week, all year round, significantly enhance connectivity by offering passengers from either Athens or Munich the best conditions and of course the most modern fleet in Greece and one of the most environmentally friendly in Europe".
"Greece and Bavaria are sharing not only the flag colors white and blue but strong cultural links as well. With this in mind Munich Airport is very proud that our newest carrier SKY express with its modern fleet will connect our two capitals. Both airports can now provide a significantly enhanced connectivity that will facilitate and stimulate air travel between Greece and Germany", Thomas Kube, Vice President Route and Passenger Development of Munich Airport stated.
The city with its rich history, renowned museums, unique landscapes and Oktoberfest, the world's largest beer festival, comes even closer on affordable and highly competitive terms.