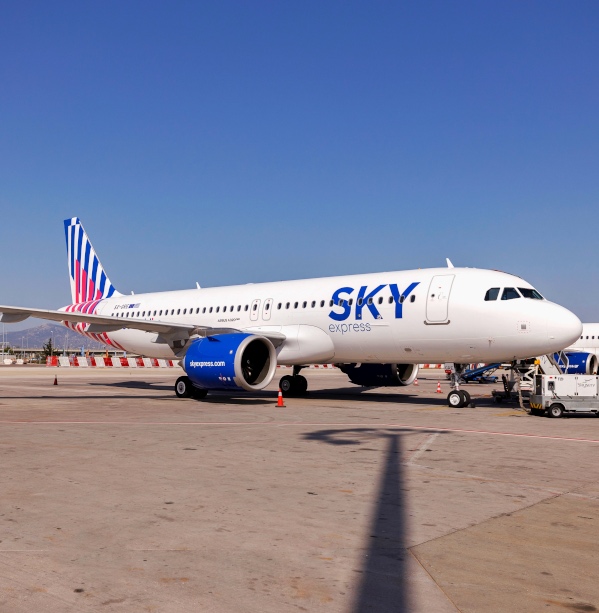 Another 1 Airbus A320neo is added in the country's newest and greenest fleet
Jul 21, 2022
With the new addition, SKY express sets another milestone in its ongoing investment plan and seals its vote of confidence in the prospects of Greek tourism.
The significant investment traffic, just one year after the complete modernisation of its fleet with six Airbus A320neo, one Airbus A320ceo and six ATR 72-600, concerns the acquisition of an ad-ditional aircraft of the Airbus A320neo family.
This new addition is part of SKY express' systematic commitment to a fully sustainable model of air transport with new generation state-of-the-art aircrafts that save fuel and reduce environmental impacts.
The newly acquired aircraft strengthens the country's newest and greenest fleet in terms of available seats, effective service of increased traffic and overall support of the domestic tourism product. At the same time, it demonstrates SKY express' readiness for a demanding sum-mer program that includes 12 countries, 21 foreign cities and the largest domestic network.
As stated by Mr. Theodoros Krokidas, Chairman of the Board, SKY express: At SKY express we seek a "cleaner" future in aviation and a sustainable operating model. Thus, just one year after the overall upgrade of our fleet we are today enriching it with additional Airbus A320neo. It is our con-tribution to winning the bet of Greek tourism. We are changing aviation standards in the country, offering a unique travel experience and environmentally responsible choices to the people who trust us.
With direct flights to strategic destinations, enhanced connectivity and strong alliances, the new era airline is contributing decisively to the country's tourist traffic this summer; as well as its partnerships with global giants such as Air transat, Air France, KLM, Qatar Airways, American Airlines, Middle East Airlines, Cyprus Airways, easy jet and Delta ensure easy travel to 34 distinct Greek destinations.