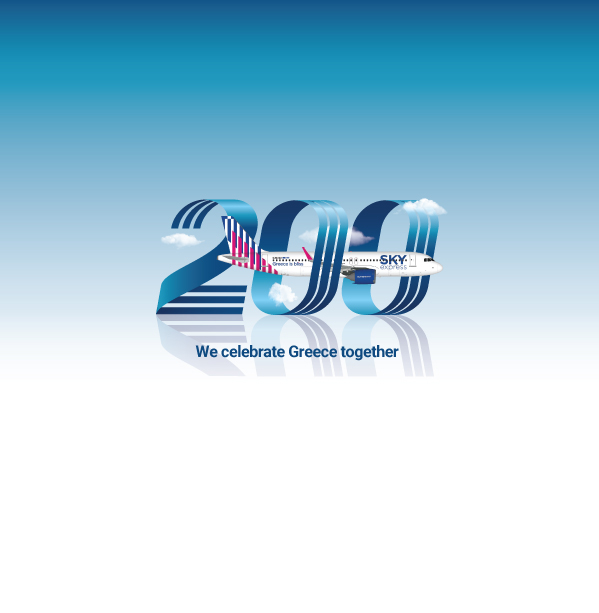 We celebrate 200 years of Greece!
Mar 24, 2021
We fly and celebrate together with bonus tickets!
We honor the 200th anniversary of the Hellenic Revolution by offering a free ticket to all of you that are flying with us on Greeks' most special day, March 25th, 2021. Happy 200th Anniversary to all!
Terms & conditions:
Your flight must have taken place on 25.3.2021.
To receive your bonus ticket, please contact our Call Center (via phone at 801 112 8288 or 215 215 6510, or at callcenter@skyexpress.gr)
Your bonus ticket will be the equivalent of the fare value of your ticket on 25.3.2021 (airport taxes are exempted)
Your bonus ticket is valid until 31.12.2021
On March 25th, 2021 we welcomed two more brand-new Airbus A320neo, named "1821" and "Freedom / Eleftheria"
Today, March 25th, 2021 two more brand-new Airbus A320neo arrived at the Athens International Airport with the anniversary flights GQ2021, GQ200, underlining the significance of the day.
To celebrate 200 years since the Hellenic Revolution together with all Greeks, our fleet's newest members have been given apt names inspired by this glorious Anniversary: as of today Airbus A320neo "1821" and "Freedom" will be cruising the skies of Greece and Europe, to 39 domestic and international destinations, conveying the panhellenic message of pride that all Greeks boast.
All of us at SKY express, Greece's fastest growing airline, honor our glorious history while focusing on tomorrow's Greece that dares, evolves and grows.
With faith in our abilities, we will be flying higher every year.