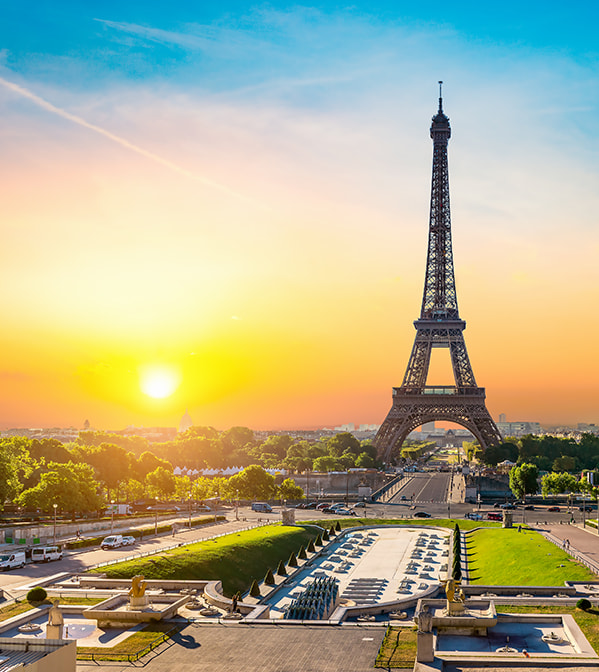 Flights from Athens to Paris
Book your next flight with SKY express
An unforgettable flight experience
from Athens to Paris
Book your flight tickets with SKY Express for your next flight from Athens to Paris and choose the company with the greenest and youngest fleet in Greece.
Enjoy your flight to Paris Charles de Gaulle Airport (CDG) and Paris, the City of Light and love, in all the comforts provided to you by SKY Express, such as premium snacks and beverages of your choice through the new SKY Drinks & Bites service, comfortable ergonomic seats and a calm and safe flight environment.
Romanticism, a relaxed lifestyle, beautiful landscapes, majestic sights, well-dressed people, chic stores, delicious special tastes ... These are but few of the ingredients forming the intoxicating scent of Paris. A city that emerged from a dream, the City of Light, one of the greatest capital cities of Europe, is waiting for you to explore it.
Enjoy the museums and sights of Paris and take a trip through time by walking on the shores of the Seine, admiring the Eiffel Tower, the Arc de Triomphe, the famous Louvre Museum, the majestic Notre Dame and many, many other monuments and squares bound to amaze you. Naturally, the sights and museums are not the only things to enjoy while in Paris: the many bistros with their spectacular blooming terraces are the ideal place to gaze at the city through a local's view.
Book your tickets with SKY Express and fill your bags with the dreamiest images, tastes and memories, which will be forever imprinted on your mind.
Weather conditions in Paris
January
49mm
February
42mm
March
42mm
April
44mm
May
48mm
June
44mm
July
41mm
August
34mm
September
31mm
October
46mm
November
50mm
December
63mm