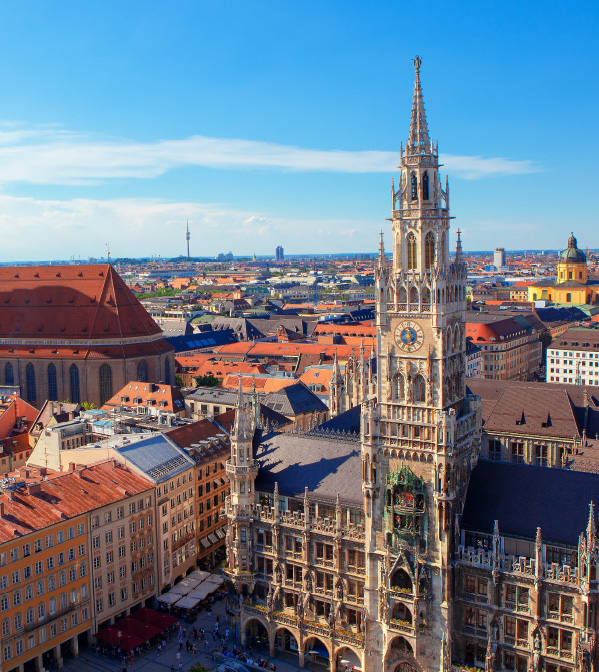 Flights from Athens to Munich
Book your next flight with SKY express
An unforgettable flight experience
from Athens to Munich
Book your flight tickets with SKY Express for your next flight from Athens to Munich and choose the company with the greenest and youngest fleet in Greece.
Enjoy your flight to Munich's International Airport (MUC), the homeland of Oktoberfest, with all the comforts SKY express provides, such as premium snacks and beverages of your choice through the new SKY Drinks & Bites service, comfortable and ergonomic seats and a serene and safe flight environment.
Munich is the ultimate combination of old and new, a genuine city of contrasts. You can wander around beautiful neoclassical parts of the city, such as Ludwigstraße and Leopoldstraße and then see the colourful modern Brandhorst Museum. For art lovers, there are over 80 museums to choose from, in Munich. Visit the capital of Bavaria, the city in which beer holds a prominent place, as it is at the heart of Munich's culture. The city hosts many breweries that produce some of the most famous beers that beer lovers should definitely try. And of course, one thing is for sure - in Munich you will never get hungry! From huge, fragrant pretzels to giant pork guts and schnitzel, you will surely be impressed by the delicious flavors and large quantities of food.
Book your tickets with SKY express and fill your bags with the dreamiest images, flavors and memories that will be etched in your mind forever.
Weather conditions in Munich
January
65mm
February
65mm
March
84mm
April
75mm
May
106mm
June
113mm
July
111mm
August
104mm
September
85mm
October
65mm
November
73mm
December
78mm