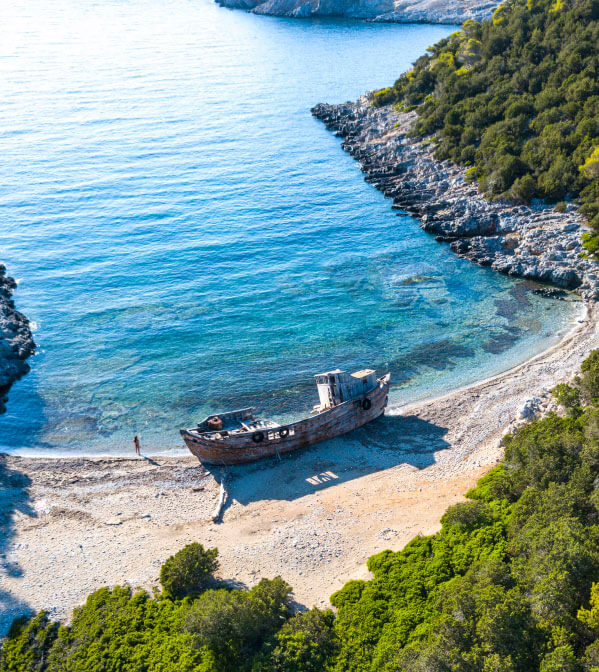 Flights from Thessaloniki to Skyros
Book your next flight with SKY express
An unforgettable flight experience
from Thessaloniki to Skyros
Book your flight tickets with SKY Express for your next flight from Thessaloniki to Skyros and choose the company with the greenest and youngest fleet in Greece.
Enjoy your flight to the State Airport of Skyros (SKU), with all the comforts provided by SKY express, such as free premium snacks and beverages of your choice, comfortable and ergonomic seats and a calm and safe flight environment.
It may not be the first destination that comes to mind when planning a leisure trip to Greece. But it is certainly the destination that will engrave in your mind the most intense and authentic images, flavors, smells and memories, that you will cherish for a lifetime...
Secluded, blue beaches, traditional architecture with sugar cubed-like houses, delicious flavors and frugal horses are some of the beauties that Skyros can offer you, the "wild" jewel of the Aegean. Explore the capital of Skyros, Chora, with its picturesque houses that stand imposingly on its hill, overlooking the sea. Get lost in its picturesque alleys, admire its simple and beautiful architecture, smell the intoxicating jasmine that emerges from the courtyards of the houses and enjoy the island in all its glory.
Taste the traditional delicacies of the island and explore it through unique hiking trails that cross the entire island.
Book your tickets with SKY express and fill your bags with the dreamiest images, flavors and memories that will be etched in your mind forever.
Weather conditions in Skyros
January
85mm
February
73mm
March
81mm
April
46mm
May
37mm
June
11mm
July
3mm
August
4mm
September
21mm
October
52mm
November
60mm
December
102mm