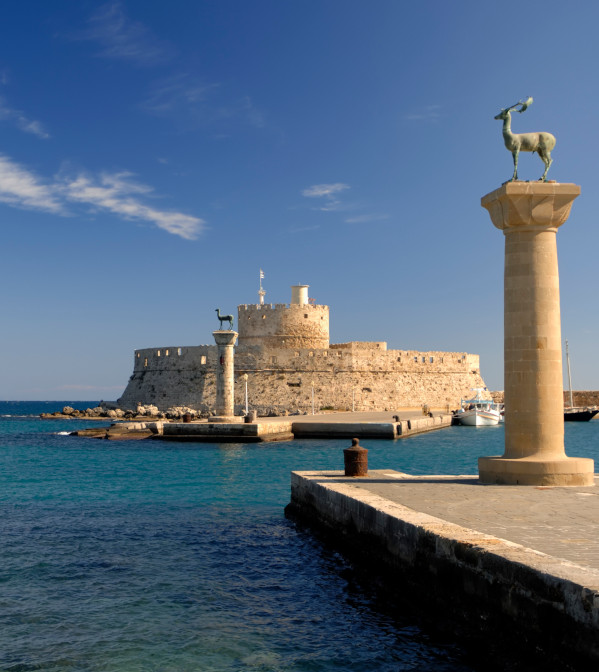 Destination


Rhodes
Plan your trip with SKY express
All roads lead to… Rhodes. Once you land, head straight downtown to witness one of Europe's eldest and most well preserved-European medieval cities (it's an UNESCO World Heritage Site for your information). Athens isn't the only one with an Acropolis in Greece, and the Lindos Acropolis is an unequivocal "must-see". Other gems that you can't miss out on are the Valley of Butterflies, the beaches of Kallithea Agathi, Kiotari and many more! If (and this is a big IF) you have seen all there is to seen in Rhodes, you can just hop on the ferry and visit the smaller nearby islands of Chalki and Simi!
Flights to Rhodes
Discover more flights to Rhodes and take advantage of our unique offers. Book today your flight ticket to Rhodes and discover a magical destination.
ATH
RHO
Flight from Athens to Rhodes
Weather conditions in Rhodes
January
143mm
February
122mm
March
82mm
April
55mm
May
23mm
June
5mm
July
2mm
August
1mm
September
8mm
October
39mm
November
114mm
December
163mm

Airport
Diagoras Airport (RHO)

Please note that from Monday November 29th, 2021 until further notice, due to maintenance reasons, our check-in counters will relocate to 23-27. Moreover, every Thursday our check-in will move to counters 9-12 in T1 (old airport terminal).