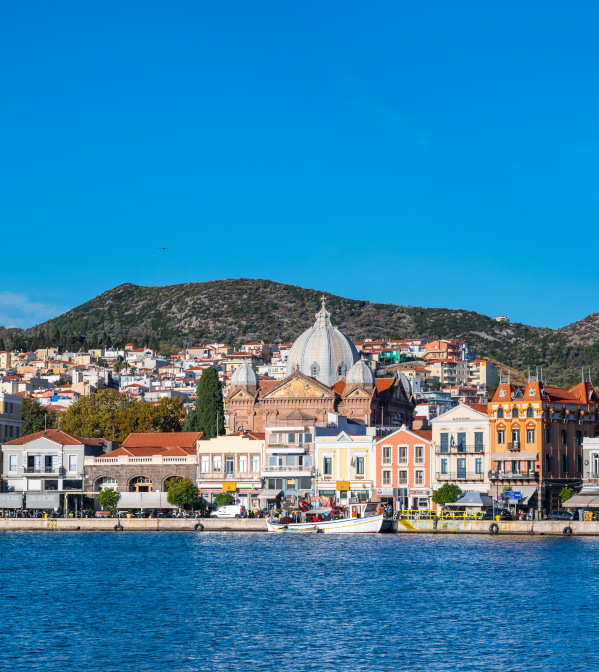 Flights from Thessaloniki to Mytilene
Book your next flight with SKY express
An unforgettable flight experience
from Thessaloniki to Mytilene
Book your flight tickets with SKY Express for your next flight from Thessaloniki to Mytilene and choose the company with the greenest and youngest fleet in Greece.
Enjoy your flight to Mytilene International Airport "Odysseas Elytis" (MJT) and Mytilene, the "Queen" of the Aegean Sea, in all the comforts provided to you by SKY Express, such as free premium snacks and beverages of your choice, comfortable ergonomic seat and a calm and safe flight environment.
Admire the splendid Mytilene, towering in the embrace of two hills. Visit the historical Genoese Castle of Mytilene, one of the most famous archaelogical sites of the island. Explore the island's center, taking a walk through the market of Mytilene, where you will find traditional products; and as the sun is setting, don't forget to walk along the bay to the center of Mytilene, where many yachts are moored, and enter one of the many restaurants or small taverns to try out the delicious local dishes.
Book your tickets with SKY Express and fill your bags with the dreamiest images, tastes and memories, which will be forever imprinted on your mind.
Weather conditions in Mytilene
January
131mm
February
121mm
March
90mm
April
74mm
May
52mm
June
33mm
July
7mm
August
7mm
September
28mm
October
74mm
November
122mm
December
148mm