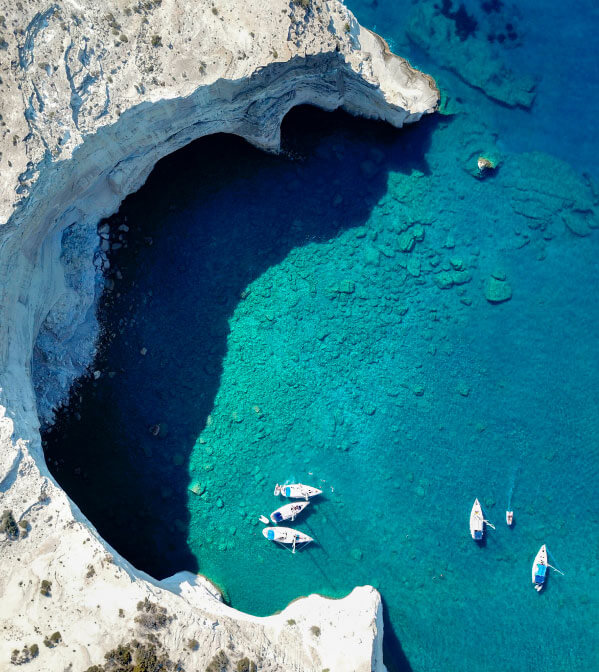 Destination


Milos
Plan your trip with SKY express
When you hear about Milos, the famous Venus certainly comes to mind. And not in vain, since the Goddess of beauty and love generously donated her beauty to the island of Milos and made it one of the most fairytale and ""exotic"" islands you will come across - the vision of the Cyclades! Milos stands out for its enchanting atmosphere, rich history, picturesque fishing villages, amazing food and romantic bays and invites you to explore a timeless Cycladic gem that will steal your breath with its enchanting beauty. The beaches on this island are emblematic and especially the wonderful Sarakiniko beach, a lunar landscape consisting of volcanic formations of white rocks and crystal clear turquoise waters. Explore its sea caves, dive into its crystal clear waters, enjoy the sun and taste the seductive atmosphere of this beach. Kleftiko is another extremely popular attraction, a beach accessible only by boat. With towering rock formations and emerald waters, this former pirate shelter is now the island's majestic trademark! And these are just two of the 40+ magnificent beaches of Milos that call you to enjoy them! Beyond the beaches, the hidden diamonds of Milos are the colorful fishing villages. In them you will find small whitewashed houses with colorful shutters, as if they are out of a fairy tale. And of course you will see the so-called ""wires"", which used to host the fishermen's boats, while now, many of them have been transformed into hostels that will offer you an authentic island accommodation experience. Wander around Plaka, the capital of the island and enjoy your walks in its picturesque narrow streets, full of white houses, colored with blooming bougainvilleas. Be enchanted by the well-known sunsets and bathe with the golden-blonde touches of the sun when it ""kisses"" the sea. Milos is waiting for you, ready to give you the most romantic and relaxing vacation!

Sightseeing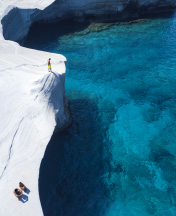 Sarakiniko Beach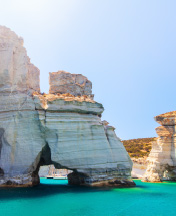 Kleftiko Beach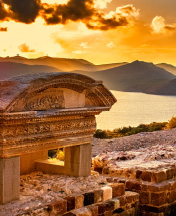 Ancient Theatre & Catacombs
Sarakiniko Beach
It is the most impressive beach in Milos and in Greece. It is considered the trademark of the island! Sarakiniko has a unique geological profile that makes it one of the most impressive natural sites you will visit in Greece! It is the most photographed part of Milos and is famous for its enchanting lunar landscape - long, white and smooth rocks with horizontal layers create unique shapes around the sea. The erosion caused by the waves created small and large cavities everywhere over time. In Sarakiniko there are no signs of vegetation and there is a bright white color, creating the perfect contrast with the blue and turquoise waters that surround it. Sarakiniko was named after the Saracen pirates, who allegedly used the caves and tunnels as a hiding place for themselves and their treasures.
Local gastronomy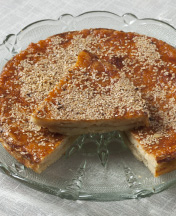 Watermelon pie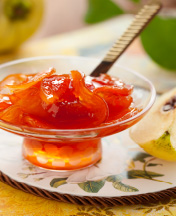 Dragée (sugarcoated almond)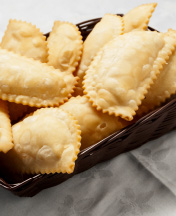 Pitarakia
Watermelon pie
Watermelon pie is a sweet summer speciality of Milos, consisting of watermelon flesh, sugar, local thyme honey, flour, cinnamon and olive oil. This dish prevailed as a traditional dish of Milos, since on the island you will find many watermelons, which even have a particularly fruity and "full" of taste. The recipe is very simple: all the ingredients are mixed together and the watermelon mixture is poured into a baking tray, smoothed out in the form of a flat pie and sprinkled with plenty of white sesame seeds before baking. The pie has to be baked until it gets a nice color and crispy crust up and down, but it remains fluffy, like pudding in the middle.
Weather conditions in Milos
January
104mm
February
85mm
March
86mm
April
42mm
May
21mm
June
7mm
July
2mm
August
3mm
September
15mm
October
47mm
November
101mm
December
119mm

Airport
Milos Airport (MLO)