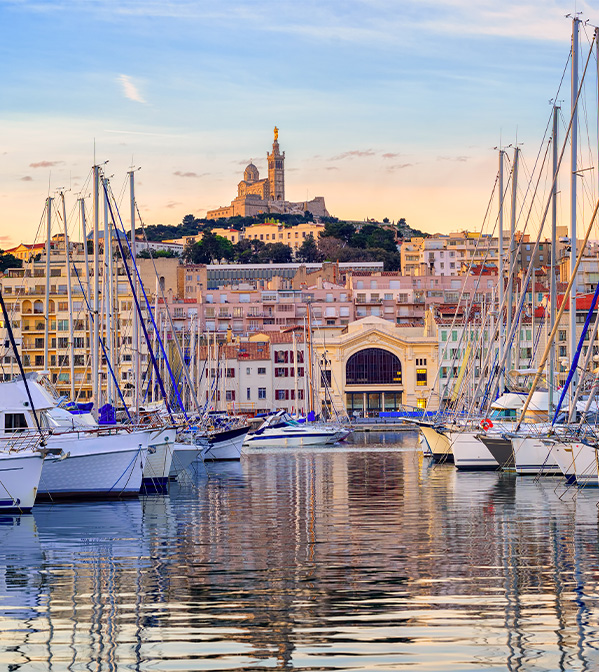 Flights from Heraklion to Marseille
Book your next flight with SKY express
An unforgettable flight experience
from Heraklion to Marseille
Book your flight tickets with SKY Express for your next flight from Heraklion to Marseille and choose the company with the greenest and youngest fleet in Greece.
Enjoy your flight to Marseille's Aéroport Marseille-Provence Airport (MRS), with all the comforts SKY express provides, such as premium snacks and beverages of your choice through the new SKY Drinks & Bites service, comfortable and ergonomic seats and a calm and safe flight environment.
With a bustling harbor and vibrant urban energy, Marseille attracts guests looking for an authentic tourist experience. This vibrant cosmopolitan city is France's oldest and second largest after Paris. Marseille has a lot to offer the visitor, such as endless walks on its old streets, castles, museums and churches, since it will be able to enchant you with its architecture, combined with its sunny weather, since it has about 300 days of sunshine a year! It has even won the title of European Capital of Culture for 2013, due to its deep cultural wealth!
Book your tickets with SKY express and fill your bags with the most dreamiest images, flavors and memories that will be etched in your mind forever.
Weather conditions in Marseille
January
51mm
February
35mm
March
36mm
April
53mm
May
42mm
June
20mm
July
7mm
August
8mm
September
39mm
October
58mm
November
68mm
December
51mm