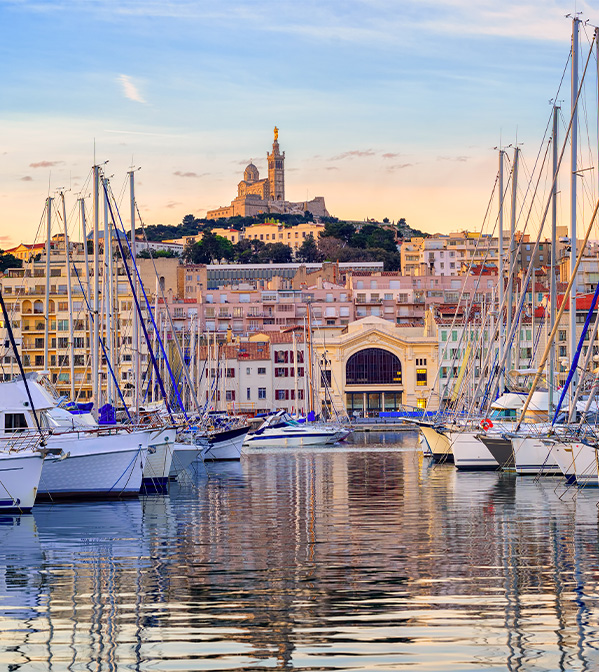 Destination


Marseille
Plan your trip with SKY express
With its very busy harbor and its vibrant urban energy, Marseille is a homing beacon for visitors who seek a genuine tourist experience. This high-spirited cosmopolitan city is the oldest and second largest city in France - right after Paris. Marseille has a clearly mediterranean ambiance, stretching from its houses with red-tiled roofs to the fishing boats in its harbor. Regardless of particular location, every visitor is at all times close to its serene blue waters: you could be walking along a charming old road with a view to the city, or you could be right next to the sea, feeling its refreashing breeze. This colorful and culturally diverse heritage also makes Marseille a very fascintating place to visit. Being established Marseille's status as a ""bridge"" between North Africa and Europe due to its position, the city is also host to a large population of immigrants from Algiers, who have left their exquisite oriental mark on Marseille. Visitors can find traditional arabian souks - the typical oriental bazaars - as easily as finding classic French bouillabaisse! Marseille can offer you a great deal of options, including endless walks through its old streets, castles, museums and churches. Its combination of architecture and sunny weather is nearly irresistible - Marseille is bathed in sunlight 300 days a year! In fact, thanks to its extensive cultural wealth, Marseille had won the title of European Capital of Culture 2013! So, organize your trip with SKY Express and get ready to explore it!

The history
Marseille is one of the oldest cities in France. It was originally founded by a group of Greek sailors on 600 B.C., and although retaining its independence until 100 B.C., it was eventually absorded by the Roman Empire just like the rest of France. The Romans named it Masillia, and up until the fall of the Empire, it was the place of birth for many rulers, including the Visigoths and the emperor Charlemagne - who, in fact, granted political power to Marseille and guided it towards a prosperity that lasted for many centuries. Over the course of time, Marseille came to face many difficult periods, until ti became part of France in 1480 and gained the status of crucial trade port and primary military base of France in the Mediterranean Sea. During the French Revolution, Marseille pushed for its independece - in fact, it composed La Marseillaise, which is the national anthem of France. The French Republic marked a second period of growth for Marseille, with particular emphasis on the development of manufacturing and industry throughout the 19th century. The city suffered much destruction during the Second World War, and afterwards fell into a recession. Nevertheless, Marseille was rebuilt in 1950 by means of war reparations paid by Germany. Furthermore, from 1950 onwards, the city experienced a surge of immigrants, which contributed to the Marseille's cultural diversity that remains a dominant aspect of the city to this day.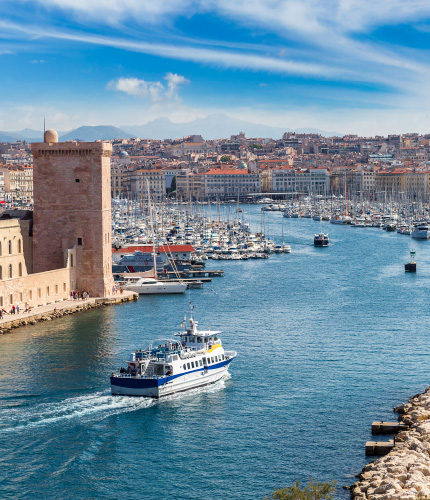 Sightseeing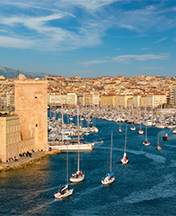 Le Vieux Port (The Old Port of Marseille)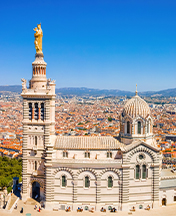 Basilica of Notre-Dame de la Garde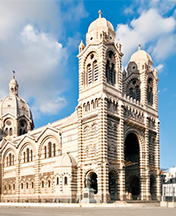 Cathedral of La Major
Le Vieux Port (The Old Port of Marseille)
The Old Port is a historical natural harbor in Marseille, a usual point of departure fo numerous excursion and fishing boats. The firshermen still unload their catches on the dock, just as they did back in the old days, preserving the purity of the harbor and its native popular character. You will see locals visiting the nearby market of Quai des Belges on a daily basis to purchase fresh fish. The Old Port of Marseille is also an ideal place to enjoy a meal under the sunny sky or to just watch people passing by while drinking a coffee in one of the sidewalk coffehouses.
Local gastronomy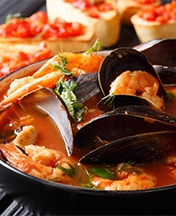 Bouillabaisse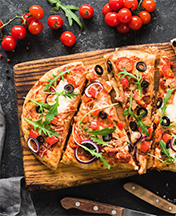 Pizza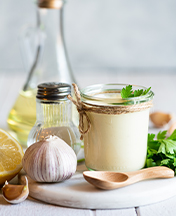 Aioli
Bouillabaisse
The most famous and classic dish of Marseille is bouillabaisse. Once known as the poor man's soup, today it is served as a hearty meal that is very popular with true lovers of seafood. The soup is prepared using a variety of seafood, depending on what is readily available or what will be selected by the chef. Its ingredients may include shrimps, crab, lobster, oysters and sea urchins, commonly combined with a mix of spices and vegetables, such as garlic, onions, potatoes and fresh herbs.
Weather conditions in Marseille
January
51mm
February
35mm
March
36mm
April
53mm
May
42mm
June
20mm
July
7mm
August
8mm
September
39mm
October
58mm
November
68mm
December
51mm

Airport
Marseille Provence Airport (MRS)

*SKY express departures from Terminal 1A (T1A) .