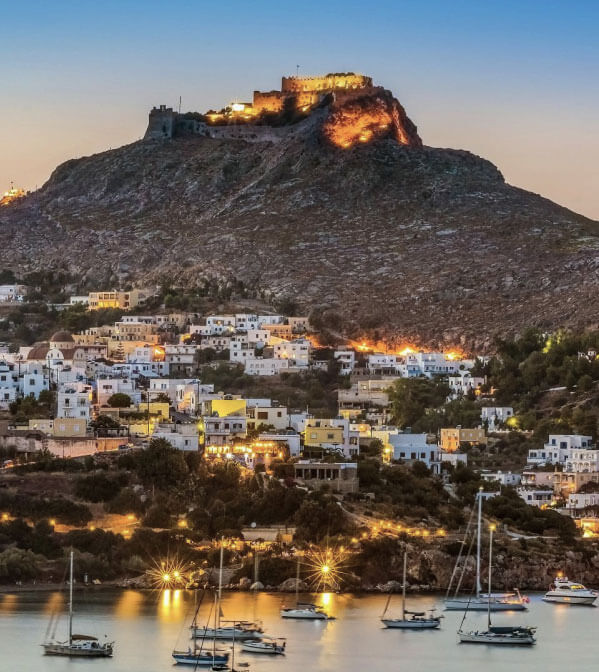 Flights from Astypalaia to Leros
Book your next flight with SKY express
An unforgettable flight experience
from Astypalaia to Leros
Book your flight tickets with SKY Express for your next flight from Astypalaia to Leros and choose the company with the greenest and youngest fleet in Greece.
Enjoy your flight to the State Airport of Leros (LRS), with all the comforts provided by SKY express, such as free premium snacks and beverages of your choice, comfortable and ergonomic seats and a calm and safe flight environment.
A small, authentic, unexplored island, located in the northern Dodecanese, Leros is a place that when you see it you will feel a different, unique aura that you will not be able to explain.
In this hidden gem of the Aegean, the island of Artemis, tradition and history unfold through the tangle of years, highlighting the natural beauty and rich past of the place that harmonize in a mysterious way. Discover Leros, an authentic island with an aura that will fascinate you - an oasis of peace and tranquility that will give you the most beautiful moments of relaxation. Visit Lakki, the capital of Leros and admire its unique architecture. See Agia Marina with its beautiful, colorful mansions. Proceed to the square of Platanos and the charming Panteli and feel as if time has stopped, admiring the traditional beauty of the place. On the other hand, the view from the imposing castle of Panagia and the six windmills can make you feel that you will never want to leave Leros.
Book your tickets with SKY express and fill your bags with the dreamiest images, flavors and memories that will be etched in your mind forever.
Weather conditions in Leros
January
101mm
February
95mm
March
68mm
April
47mm
May
18mm
June
3mm
July
1mm
August
0mm
September
8mm
October
35mm
November
88mm
December
115mm