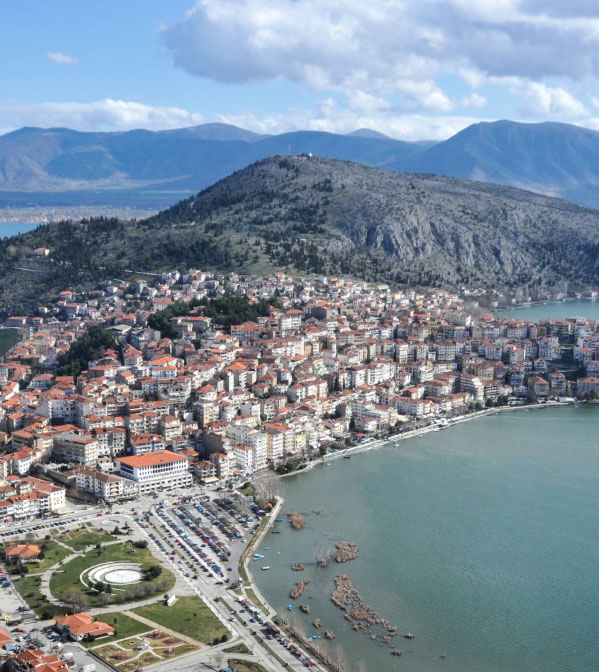 Flights from Athens to Kastoria
Book your next flight with SKY express
An unforgettable flight experience
from Athens to Kastoria
Book your flight tickets with SKY Express for your next flight from Athens to Kastoria and choose the company with the greenest and youngest fleet in Greece.
Enjoy your flight to the State Airport of Kastoria, "Aristotelis" (KSO), with all the comforts provided by SKY express, such as free premium snacks and beverages of your choice, comfortable and ergonomic seats and a calm and safe flight environment.
Kastoria is a beautiful lakeside town in northwestern Greece, famous for its trade in fur and leather, as well as for its rich history.
The magnificent mansions built by wealthy merchants throughout the city are proof of its great prosperity, as it has developed a strong economic and cultural identity thanks to the fur industry. And like this, among the rich mansions, there are impressive historical monuments that make Kastoria look like an open-air Byzantine museum. Kastoria is a city that combines the past with the present and will give you unique images and landscapes that you will remember forever.
A holiday town all year round, Kastoria will get back to you any time you choose to visit it, offering you cold walks on the lake in winter and carefree walks under the lush trees and oaks of the lake in spring!Book your tickets with SKY express and fill your bags with the dreamiest images, flavors and memories that will be etched in your mind forever.
Weather conditions in Kastoria
January
50mm
February
54mm
March
61mm
April
79mm
May
81mm
June
48mm
July
40mm
August
31mm
September
46mm
October
66mm
November
65mm
December
75mm