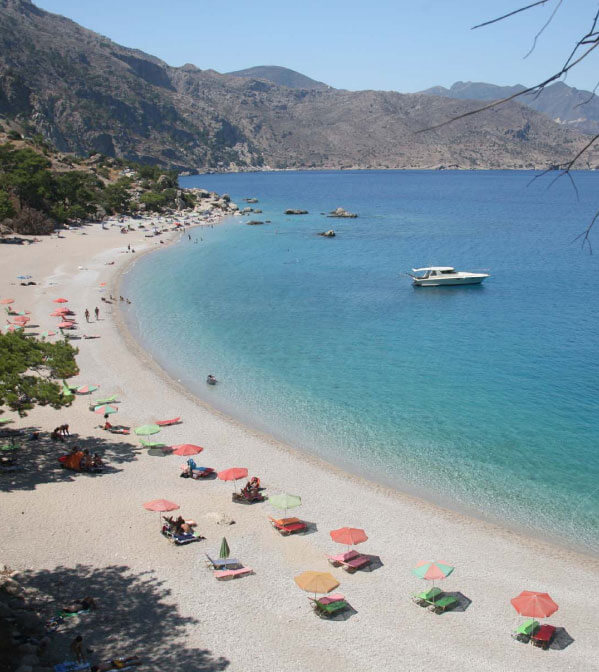 Destination


Kasos
Plan your trip with SKY express
Kasos is a small, wild and unpretentious island, hidden at the southern tip of the Dodecanese. Kasos is reminiscent of the old times of the then Greek tourism – quiet streets with local charm, warm and hospitable residents, authentic taverns and cafes, a unique sense of place and a very rich history. Travel back in time to this small island, which remains largely untouched by tourism and familiarizes visitors with an authentic part of Greece of a bygone era. Explore the island's capital, Fri, with the island's only port and walk between its old stone houses and the island's impressive churches, enjoying a cup of coffee overlooking the port of Bouka. Discover the rest of the charming villages of Kasos, such as Agia Marina, Panagia, Polis and Arvanitochori. Words are unnecessary, because these small villages host a unique beauty of traditional mansions, impressive churches with pebbled entrances and unlimited kindness and hospitality of their inhabitants. For those looking for a remote holiday experience and relaxation, Kasos holds a piece of its paradise for you as well. The pristine beaches of the island have a special beauty and charm, as they emerge from the barren and rocky landscape of the island. Last but not least, the food is an integral part of any holiday experience and is by far the best way to get to know the true character of a destination. Kasians are proud of their cuisine and rightly so, as the rich flavors largely reflect the brave character and distinctive characteristics of its barren and rough terrain. Enjoy all the local products of the island and travel through its history, through the flavors and the passion of creating the unique, traditional dishes of Kasos.

Sightseeing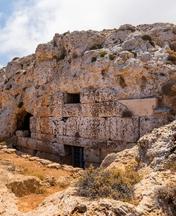 Cave of Ellinokamara
Cave of Ellinokamara
The Cave Ellinokamara of Kasos is a small cave with an ancient temple, located on the southwestern side of the island, in the city of Agia Marina. From Agia Marina you can reach the cave through a paved path that will take you there effortlessly. The Cave of Ellinokamara is a natural cave and not a creation of humans. From the Mycenaean period to the Hellenistic period, the cave was probably used as a religious place of worship. In later years the cave served as a refuge for the inhabitants of the city during the pirate raids.
Local gastronomy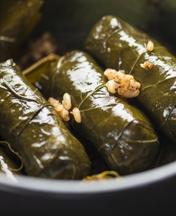 Dolmades (Stuffed vine leaves with rice)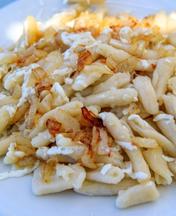 Spaghetti with Onions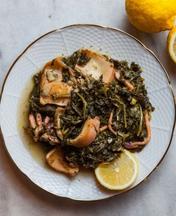 Cuttlefish Cooked in Wine
Dolmades (Stuffed vine leaves with rice)
Dolmades is a dish that can be easily found anywhere in Greece. But in Kasos you will find and taste the most delicious stuffed vine leaves you have ever tasted! The traditional recipe includes ground beef, lamb and pork, rice, onion, parsley, spices, salt and pepper. The mixture is incorporated and spread on the vine leaves, which are wrapped in little bites and placed in a pot, where they are cooked until well cooked and ready to be enjoyed!
Weather conditions in Kasos
January
73mm
February
71mm
March
50mm
April
30mm
May
15mm
June
3mm
July
1mm
August
1mm
September
10mm
October
37mm
November
47mm
December
70mm

Airport
Kasos Airport (KSJ)