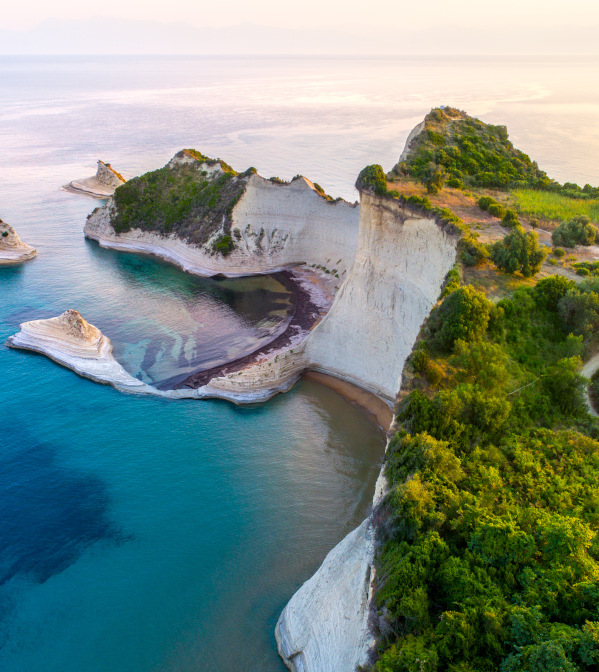 Flights from Athens to Corfu
Book your next flight with SKY express
An unforgettable flight experience
from Athens to Corfu
Book your flight tickets with SKY Express for your next flight from Athens to Corfu and choose the company with the greenest and youngest fleet in Greece.
Enjoy your flight to Corfu International Airport "Ioannis Kapodistrias" (CFU) and Corfu, the "shining diamond" of the Ionian Sea, in all the comforts provided to you by SKY Express, such as free premium snacks and beverages of your choice, comfortable ergonomic seats and a calm and safe flight environment.
Explore the sublime Corfu, the most northern island of the Ionian Sea, adorned with green hills in the south and rough rocky formations in the north. Wander around the old town of Corfu, which has been included in UNESCO's World Heritage Sites since 2007. Admire the Venetian and neoclassical yellow and orange houses in the narrow streets of the island and explore the religious monuments, picturesque villages and exquisite natural landscapes of the island, which, combined with the warm hospitality of the locals, are bound to mesmerize you!
Book your tickets with SKY Express and fill your bags with the dreamiest images, tastes and memories, which will be forever imprinted on your mind.
Weather conditions in Corfu
January
104mm
February
106mm
March
88mm
April
57mm
May
24mm
June
10mm
July
4mm
August
4mm
September
27mm
October
78mm
November
130mm
December
160mm