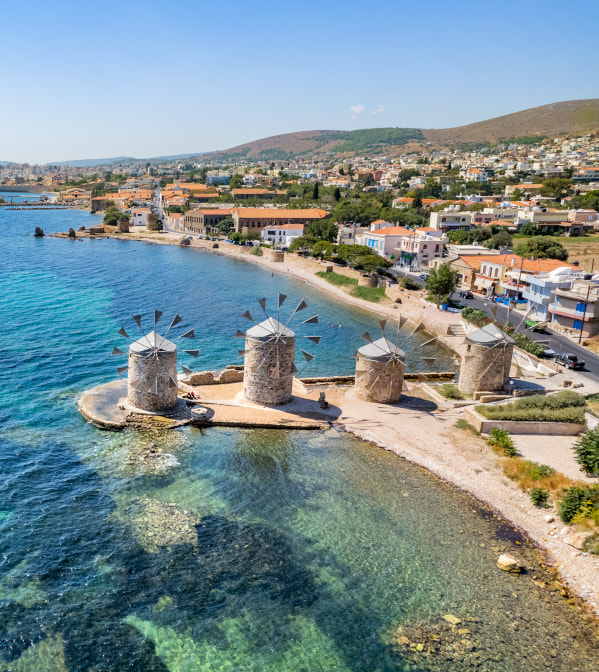 Destination


Chios
Plan your trip with SKY express
The island of Chios is located very close to Asia Minor, just 15 kilometers from the coast of Turkey and is the fifth largest island in the Aegean Sea. It is a very beautiful island that is still quite untouched by tourism despite its various beauties, such as its emerald beaches and its wonderful medieval villages. Wander around the medieval villages of Chios and enjoy their elaborate architecture and fortification structure. Admire the traditional houses of the island, decorated with black and white geometric designs and surrounded by narrow alleys that emit a sense of mystery. Taste the unique, famous and highly aromatic Chios Mastic and explore the monuments of the island, including the monastery of Nea Moni, a UNESCO World Heritage Site. But no matter what we tell you, nothing is enough to prepare you for the beauty of the island of Chios! The relaxed atmosphere of Chios, its family resorts and its incredible natural beauty, make it a popular destination for your most dreamy vacation! If you are looking for an unprecedented experience on the Greek islands, then Chios should be at the top of your list. This hidden treasure of the Aegean awaits you to explore it!

Sightseeing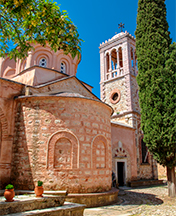 Nea Moni of Chios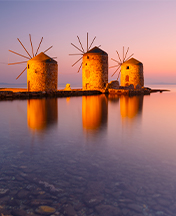 Windmills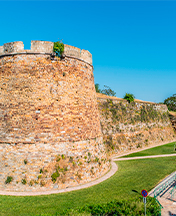 Medieval Castle
Nea Moni of Chios
Nea Moni of Chios is one of the oldest monasteries in Greece, which dates back to the 11th century and is located in the center of the island. The construction of the monastery began in 1042 and was completed in 1055. By the 17th century, the monastery had about 800 monks and great economic power with vast land holdings. But after the destruction of Chios by the Ottomans in 1822, the monastery gradually lost its prestige and the population of the monks decreased. Today, Nea Moni of Chios is spread in a space of 17,000 sq.m. and hosts only 3 monks. The monastery is particularly famous for its frescoes, which date back many centuries and, since 1990, has been included in the UNESCO World Heritage Sites.
Local gastronomy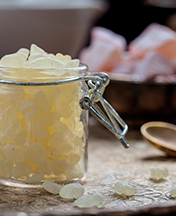 Chios Mastic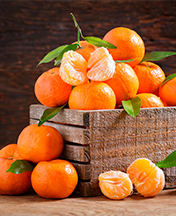 Mandarini Chiou
Chios Mastic
Chios Mastic is a traditional product that has been produced for many years exclusively on the island of Chios, in Mastic villages. Mastic is also known as the "tears of Chios", because of its droplet shape. During the Turkish occupation, the mastic was so valuable that sealing it was punishable by execution. Mastc was also a product that saved the lives of the inhabitants of Chios during the Massacre in 1822, as they gave it in exchange to the Sultan's harem. Today, the production of mastic is quite expensive, resulting in many imitations. But one is the mastic that will give you this characteristic aroma, taste and health benefits - and it is none other than the mastic of Chios!
Weather conditions in Chios
January
107mm
February
92mm
March
69mm
April
53mm
May
24mm
June
5mm
July
1mm
August
1mm
September
13mm
October
45mm
November
85mm
December
120mm

Airport
Chios Island National Airport (JKH)