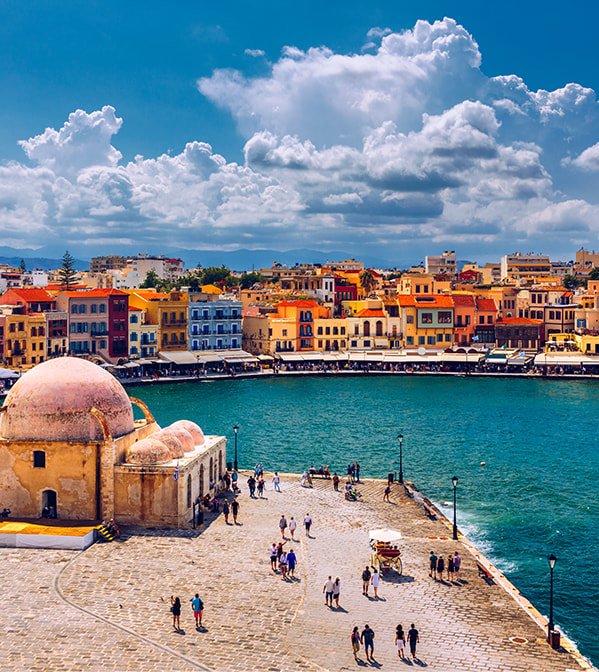 Flights from Athens to Chania
Book your next flight with SKY express
An unforgettable flight experience
from Athens to Chania
Book your flight tickets with SKY Express for your next flight from Athens to Chania and choose the company with the greenest and youngest fleet in Greece.
Enjoy your flight to Chania International Airport "Ioannis Daskalogiannis" (CHQ) and Chania, the initial capital city of Crete, in all the comforts provided to you by SKY Express, such as free premium snacks and beverages of your choice, comfortable ergonomic seats and a calm and safe flight environment.
Travel to the most culturally diverse city in Crete, whose cultural imprint was shaped by the passage of Romans, Byzantine Greeks, Venetians and Ottomans. Wander around the picturesque paved alleys of the city and take a trip back in time. Reach the port and wonder at the Venetian lighthouse, the trademark building of Chania. Leave the city behind you for a little while and explore the famous beaches of Chania, which will remind you of exotic islands. Taste the unique local delicacies and see Chania through the eyes of its residents. From the spectacular Balos Beach to the famous Gorge of Samaria, Chania offers you a long list of opportunities for unforgettable adventures, scented with a dash of traditional raki!
Book your tickets with SKY Express and fill your bags with the most dreamy images, tastes and memories, which will be forever imprinted on your mind.
Weather conditions in Chania
January
88mm
February
90mm
March
68mm
April
29mm
May
16mm
June
3mm
July
0mm
August
0mm
September
8mm
October
45mm
November
63mm
December
104mm