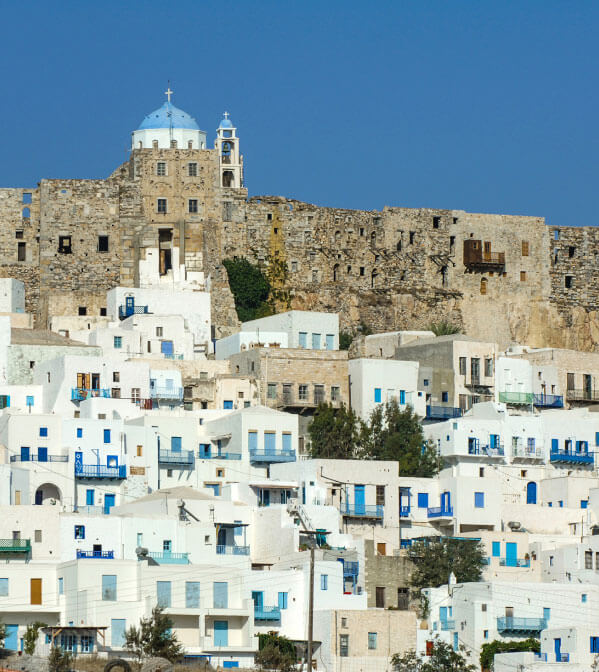 Flights from Leros to Astypalaia
Book your next flight with SKY express
An unforgettable flight experience
from Leros to Astypalaia
Book your flight tickets with SKY Express for your next flight from Leros to Astypalaia and choose the company with the greenest and youngest fleet in Greece.
Enjoy your flight to the State Airport of Astypalaia (JTY), with all the comforts provided by SKY express, such as free premium snacks and beverages of your choice, comfortable and ergonomic seats and a calm and safe flight environment.
Astypalaia is the island you may have never been to but you will always want to visit. Or even if you found yourself there, you didn't have time to get enough of it and definitely want to go back. Justifiably, since the island's beauty is so great that it cannot be described in words.
A butterfly in the middle of the Aegean, Astypalaia has been likened to this because of its butterfly shape. Where the Dodecanese islands meet the Cyclades, Astypalaia flutters carefree in the blue Aegean light. Although it belongs to the island complex of the Dodecanese, Astypalaia has the characteristic Cycladic architecture. Whitewashed square houses and churches, narrow alleys, blue windows and wooden balconies create a unique atmosphere that will fascinate you!
So don't wait! With direct flights from Athens, Astypalaia awaits you with its open wings to lead you to the most unique holiday experiences.
Book your tickets with SKY express and fill your bags with the dreamiest images, flavors and memories that will be etched in your mind forever.
Weather conditions in Astypalaia
January
74mm
February
66mm
March
46mm
April
22mm
May
12mm
June
1mm
July
0mm
August
0mm
September
5mm
October
30mm
November
51mm
December
94mm