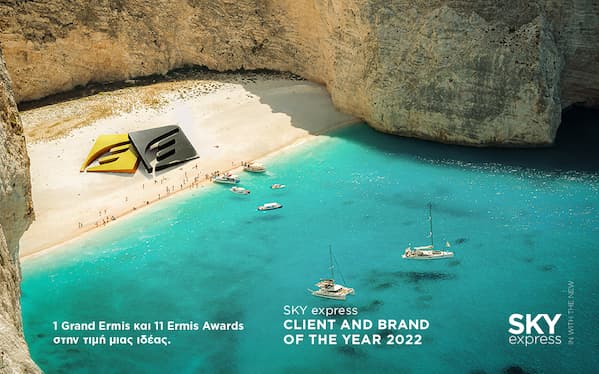 SKY express stars in Ermis Awards with the top distinctions of Brand and Client of the Year!
13 mars 2023
Winning 12 awards and the highest distinction as Brand and Client of the Year, the airline of the future was the leader of the communication industry's great event.
SKY express welcomed 2023 with even more awards! Following the recognition as an international case study by Google, as the European company with the largest increase of flights by Eurocontrol, and the distinction as Brand of the Year at the PEAK Awards, next came this award, by the leading institution that evaluates creativity and communication in Greece.
In the festive atmosphere of the Ermis Awards, organized by the Association of Advertising and Communication Companies of Greece, on January 27, SKY express' advertising campaign "odds and sods" created by Soho Square Athens, won the most awards, in a variety of categories.
In particular:
Top Brand and Client of the Year
Grand Ermis in Listings
Four (4) Golds in Listings category
Three (3) Golds in the category Outdoor Advertising
One (1) Gold in the Small Budget Digital category
One (1) Gold in the Art Direction category
One (1) Silver in the Listings category
One (1) Silver in category Outdoor Advertising
In collaboration with the renowned and experienced team of the advertising company Soho Square Athens, SKY express familiarized its audience with beloved Greek destinations, providing services with competitive terms, which meet the needs of modern travelers.
As Markos Markakis, Digital Marketing & Sales Manager of SKY express, highlighted: "We are delighted for the 12 awards we won at this year's Ermis Awards. It is another important reward of our strategy to bring a fresh proposal with modern aesthetics, full of optimism and unique experiences that conveys what traveling is supposed to be, to the aviation industry. It is also the result of the successful collaboration with Soho Square Athens, which is based on the values of trust and a shared vision to create a relation of love and trust with our customers."