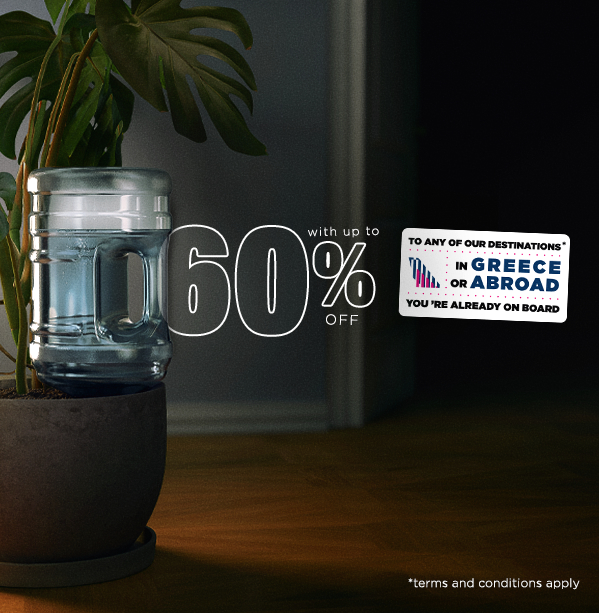 Up to -60% for anywhere* from October to March!
Sep 30, 2022
Terms & Conditions
The offer is valid for limited number of seats for reservations until 16/10/2022 for flights from 17/10/2022 to 31/03/2023.
The discount appears on the fare under the title "Offer". Applies to SKY Joy or SKY Basic+ fares where the respective terms apply.
The booking engine, prices are displayed as "Offer" fare and the discount is already calculated.
Valid for direct flights only.
Routes of Public Service Obligation (PSO / Special routes) under the "BASIC" fare are excluded from the offer.
The offer is not applied in combination with other promotional activations.
In case of changing the ticket, there is a penalty fee corresponding to the fare category.
Discounts per route are as follows:
Up to 30%
Athens – London, London – Athens,
Athens – Zakynthos, Zakynthos – Athens,
Athens – Karpathos, Karpathos Athens,
Athens – Skiathos, Skiathos – Athens,
Athens – Naxos, Naxos – Athens,
Athens – Kythira, Kythira – Athens
Athens - Milos, Milos - Athens
Athens - Paros, Paros - Athens
Thessaloniki – Chios, Chios – Thessaloniki
Thessaloniki – Samos, Samos – Thessaloniki
Up to 40%
Athens – Rome, Rome – Athens
Athens - Sofia, Sofia - Athens
Athens – Paris, Paris – Athens
Athens – Munich, Munich – Athens
Athens – Milan, Milan – Athens
Larnaca - Thessaloniki, Thessaloniki - Larnaca
Athens - Chania, Chania - Athens
Athens - Kefalonia, Kefalonia - Athens
Athens - Kos, Kos - Athens
Athens - Mytilini, Mytilini - Athens
Athens - Mykonos, Mykonos - Athens
Athens - Santorini, Santorini - Athens
Athens – Alexandroupolis, Alexandroupolis – Athens
Athens - Corfu, Corfu - Athens
Athens - Chios, Chios Athens
Athens - Limnos, Limnos - Athens
Heraklion - Thessaloniki, Thessaloniki - Heraklion
Mytilini - Thessaloniki, Thessaloniki - Mytilini
Athens – Samos, Samos – Athens
Up to 60%
Athens - Thessaloniki, Thessaloniki - Athens
Athens - Larnaca, Larnaca - Athens
Athens – Brussels, Brussels – Athens
Athens - Heraklion, Heraklion - Athens
Athens – Rhodes, Rhodes – Athens