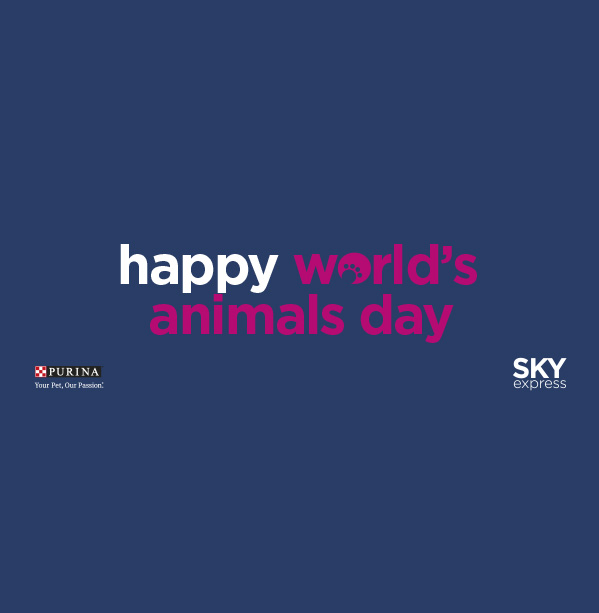 SKY express and PURINA make the journey for our four-legged passengers even more special
Oct 4, 2022
World Animal Day, October 4th and SKY express in partnership with PURINA dedicate the whole month to rewarding the passengers who travel with their pets.
The most pet friendly new era airline offers its passengers, for the second time in a few months, unique gifts with the signature of the most popular and most reliable brand of pet food. Specifically, from October 4th and for one month, SKY express will welcome its four-legged passengers with surprises that offer wonderful moments of enjoyment.
All pet-friendly passengers traveling with their pets can benefit from that. They need to simply declare in-flight that they want their gift to be collected upon disembarkation.
And not only that!
SKY express rewards them by offering privileges that upgrade the flight experience such as, entrance to Lounges, use of Fast Lane and, especially curated for international flights, Drinks & Bites with premium products.
All they have to do is choose the destination, the fare and the amenities they want. SKY express and its people will take care of everything else.
About PURINA®
At PURINA® we love pets and believe in the benefits they bring to the people who love them and to the society as a whole. That'swhy for more than 125 years now, we have been dedicated to creating nutritious, high-quality pet food to help cats and dogs have a healthier, happier and longer life span.
We argue that we live better together with our pets and we support it in practice! We are dedicated to doing what's best for pets, for the people who love them, but also for the planet we share.
Learn more about PURINA® commitments at www.purina.gr.