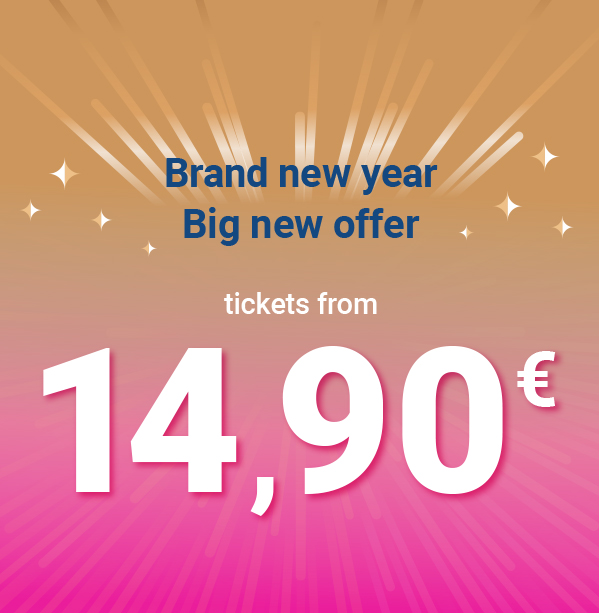 2021 begins with a big offer!
Jan 7, 2021
We wish you a happy new year full of travelling and, to help you make that wish come true, we are starting 2021 with a unique offer!
Fly for just 14.90€ to any destination to/from Athens and Thessaloniki
Travel whenever you want between 18/1 and 30/10/21
Book from 7/1/21 to 14/1/21
Terms & Conditions:

The offer applies for a limited number of seats. The fare 14,90€ concerns departures from Naxos, Milos, Kithira, Paros, Karpathos, Syros, Astypalaia, Kalymnos, Ikaria, as well as the routes Skyros-Thessaloniki and Chios-Thessaloniki. Flights from Athens to the above-mentioned islands are charged with extra airport taxes and their ticket fare starts from 36,59€, while for all the rest flights departing from Athens the fare starts from 47,59€. For flights from Heraklion, Chios, Alexandroupolis, Ioannina and Lemnos to Athens, the fare starts from 28,90€. For flights from Mykonos, Samos, Mytilene, the ticket fare is 35,73€, for flights from Corfu and Kefallonia to Athens, the ticket fare is 35,18€; for flights from Kos and Santorini to Athens, the ticket fare is 32,34€ while for departures from Zakynthos, Chania, Thessaloniki and Skiathos the ticket fares are 36,74€, 34,93€, 31,79€ and 37,29€ respectively. For flights from Corfu to Thessaloniki the ticket fare is 36,74€, and from Samos to Thessaloniki, the ticket fare is 37,29€.