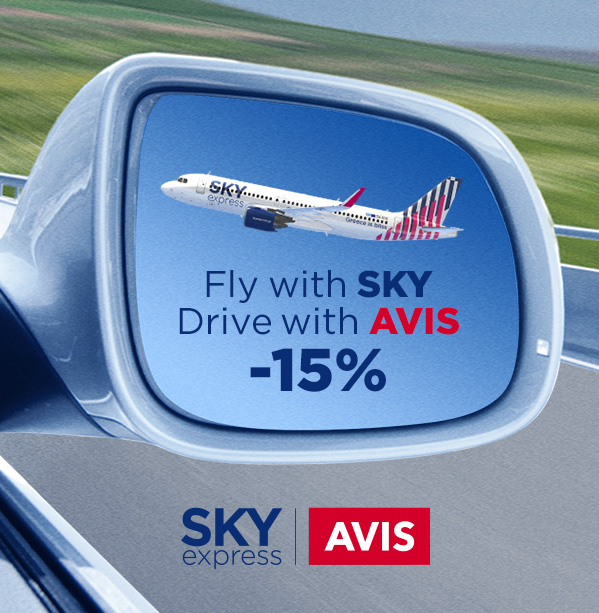 Fly with SKY and get 15% discount on AVIS!
16.09.2022
Terms & Conditions
15% discount
The offer is valid for car rental services in Greece.
The offer is valid for reservations made between 5th September 2022 and 17th October 2022.
The offer is valid for rentals made between 5th September 2022 and 31st March 2023.
If the car is reserved it is not necessary to present a coupon or proof of booking, at car pick up.
In cases where no car reservation has been made (walk up customers) a necessary condition is to show the SKY Express boarding pass in which the destination and the (current) trip date will be displayed.
Discount does not apply to fees for optional extras (such as special equipment, additional drivers, optional coverage or pre-paid fuel) nor to mandatory taxes, young driver surcharges, premium location fees, pay-on-return fuel charges, one-way charges or accident, damage or theft processing fees.
The offer is valid any day of the week.
In case of a car damage by a car accident or fire, the renter will have to pay a certain amount for repairs, which amounts is relevant to the car-group category driven. These amounts may be reduced by optionally purchasing additional coverages.
Prices may vary by car type, rental length, date and Avis office location.
In Greece all drivers must be above 21years old for all car groups except car groups J, L, M, O, P & H where the driver must be at least 25years old. Driving licenses are valid only if issued, at least 12months prior to rental. Renters that are not already 25years old, regardless of the type of the car they drive, will pay an additional charge.
he offer may not be used in conjunction with any other promotional coupon, promotion, discount, offer, corporate rates and through third party partners and booking providers.
he offer is not valid for short-term or monthly rentals with pre-agreed rates or/and applying the official corporate price list.
The offer is not valid for Avis Prestige, Αvis Flex, Switch, Avis Chauffeur, Van Rental or Leasing car-rentals.
The price and car availability may change in case of a modification to an existing reservation.
The renter must meet all the applicable Avis rental terms & conditions, such as age of the driver, credit/debit card and driving license requirements.
The offer is valid according to cars availability and Avis reserves the right to amend or withdraw the offer at any time.